The Sunday Post is a weekly meme hosted by Kimberly at Caffeinated Reviewer. It's a chance to share news; a post to recap the past week on your blog and showcase books and things we have received. Share news about what is coming up on our blog for the week ahead.
Sunday: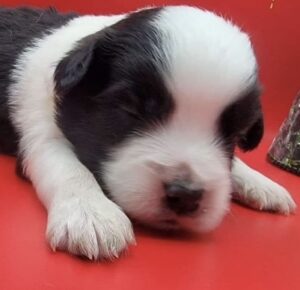 27 Days to Gotcha Day I am still SUPER bummed. The husband and I both tested positive for COVID on Friday. I was supposed to meet my sweet girl yesterday. On the flip side I got our first Chewy order in its entirety. Yes Harper is going to be a spoiled little girl. I do not care. I spent time today unpacking her items. Over the next week I'll get the house put in order so we'll be ready for her.
I still don't have taste or scent today and there was a three hour nap this afternoon. Honestly, we're thankful that COVID hasn't been too bad for us.
Monday:
26 Days to Gotcha Day
I cannot believe that I've made it through a college degree in about a year. It's been….intense. I know there is going to be some adjustment time as I get used to not doing school everyday on my lunch break, for a few hours at night, and intense weekends with 8 hour+ school work sessions. I think having the time off work because of COVID will help with the adjustment a little bit. I'm still reeling from the idea of being done. The idea that I can do literally anything without the thought of school weighing on my mind is so freeing. Tonight, we're watching a movie and I've read and napped today and it's just been bliss.
Oh! And my taste and scent were back this morning. To cap off a pretty great evening, Husband and I decided to start our Marvel Universe adventure in chronological order (by storyline) with Captain America. This was the first time either of us had seen the movie and we both really enjoyed it!
Tuesday:
25 Days to Gotcha Day Today was an interesting day. The anxiety of life shifting again hit. I hate that my anxiety even twists the good things in life. There are still daily hour long naps. I've been telling family that we sleep when COVID tells us we sleep. I've slept so much the last week that its borderline obnoxious. Today's movie was Captain Marvel and I LOVED it. It was really confusing at first but I've learned with the Marvel movies that you just have to roll with it until things start making sense.
I started getting our house put back in pre-college life order and it is just one more thing that I am thankful for. There's still a LOT to do but I'll get there. I also started getting my books into a system so I know what I have and can get some of my book piles off the floor. I've decided to use Book Collectorz (personal) & StoryGraph (social) for my main focus. I'll still use GoodReads because that seems to be the popular place to be but I've taken it down to using it at a bare minimum.
Wednesday:
24 Days to Gotcha Day The days are starting to blur together. We slept in later than usual today and the whole day has just been off ever since. It was an incredibly lazy day today. I watched Iron Man, Iron Man 2, and National Treasures. It was quite clearly a movie day today. I got new pictures of Harper and a video! She is such a happy girl. Hubby is getting quite good with the fancy pants espresso machine he purchased!
I tried to work on cataloging this evening but my phone died and the barcode scanner makes it so much faster in Collectorz! I'll probably work on it some tomorrow. I'd like to have the first bookshelf done within a week. I'm going to tuck in early and work on my current reads: The Night is Alive by Heather Graham and The Maid by Nita Prose. Both are very good reads. Both mysteries but they couldn't be more different!
Thursday:
23 Days to Gotcha Day I hate to say it but it was another low energy day today. It was Thanksgiving here in the US but we rarely go anywhere because Hubby always works the next day. We put up our Christmas tree and just relaxed today. We watched The Incredible Hulk and Walle.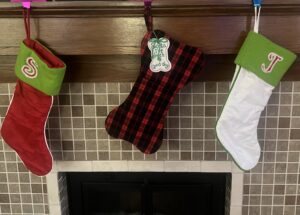 They say that the firsts are hard after losing someone you love. I've lost two this year; my father-in-law and my grandfather and I was with both of them when they passed. After coming across some of our Christmas stuff today, I just sat on the couch and cried. I'm grateful for the memories that I have of both of them but it's a double-edged sword because then it hurts that much more knowing I won't make more of them. I am beyond grateful to have the joy of having Harper to look forward to. I bought her a stocking. We will only have her for a week before Christmas but she deserves a good Christmas morning too.
I finished cataloging the first shelf of the first bookshelf tonight. It's a process but I'm glad that I'll have time to work on it now. Off to bed and my book for the evening!
Friday:
22 Days to Gotcha Day Today was such a good day! I am still pretty tired but I spent most of my time today in my library. I have my December TBR planned, my book bullet journal spread done for December, and printed off some of the book covers for it as well. I also cataloged the second shelf of books. It is taking me a little longer to get them done because I'm cleaning them up as I go. I'm removing the library covers if I can without damaging the book too much and removing the stickers on the sides of the book that are possible to be removed. I will never understand why book sellers don't use easy to remove stickers!
I didn't get anything that I had planned to do done today, but I'm okay with that. I did have a negative COVID test today! Come Monday, I'm going to have to be back in productive mode.
Saturday:
21 Days to Gotcha Day Today was a bit of a rough day. It was the first big day without my grandpa. We went to grandma's house and sat and visited. Grandma is getting one of Harper's sisters, Noel, on the same day that I will be getting Harper. We helped get the house ready for her a bit. I took an energy drink with me because for the most part I have napped everyday. It was a pretty uneventful drive both directions.
When I got home Hubby and I watched Survivor Series and it was pretty good! Not everybody we wanted to win won their matches but the difference this time is that it felt like it really progressed the storyline. I'm actually excited to see where it goes even though my picks didn't win.

Nada this week but I know next week is going to be a different story!
How is your week shaping up? What exciting things are you reading?!