The Sunday Post is a weekly meme hosted by Kimberly at Caffeinated Reviewer. It's a chance to share news; a post to recap the past week on your blog and showcase books and things we have received. Share news about what is coming up on our blog for the week ahead.
Sunday to Thursday:
Life: It's been a pretty mild week so far. I'm starting to get up earlier each week. There are still some mornings when I definitely lay in bed and just mess around on the phone. It's cold here and getting out of a warm comfy bed to go out into the cold to go to work is sometimes just a really tough choice guys. Also, I need a break. Badly. More than just a weekend kind of break. I need to unplug and recharge and know that I'm not going to pay for it when I get back kind of break. It's coming though. For now, I try to not to pressure myself too much about much of anything. I've got a lot going on and sometimes I just need to give myself a little grace.
School: D196 took it out of me on Saturday. I then got obsessed with closing out my 4th class and spent a good bit of my day off on Monday working on Critical Thinking and Logic. I passed that class Wednesday night. I started the short 1 CU Introduction to Spreadsheets course tonight. I plan on finishing that class on Saturday. Then I think I'm going to start slowing myself down a little bit. The issue is that I can't find out what the expected pacing is until I start a class. It makes it difficult for me to plan long term which I LOVE to do. I think I'm going to try to do school only on the weekdays. I think part of the issue is that I know that the more I do, the less I'm paying since I pay a flat rate for 6 months. It is really putting the pressure on doing as much as I can especially since it's cold and no one wants to do anything until mid-March at best.
Bookish: So far this week books have been good! I finished Working with People I Want to Punch in the Throat by Jen Mann. I gave it 3 stars. It was okay; it definitely had some funny stories in it but overall I don't think I really gained anything from it. That's perfectly okay. I don't have to love every book I read. I'm also pretty close to finishing Pack Up the Moon by Kristan Higgins. I have so many reading goals for the end of the month and I don't want it to be another thing that stresses me out.
Friday & Saturday:
Life: Work was just bananas on Friday. Nothing bad. Just busy and a bunch of constant stuff. I like it to be busy because I do not do bored well. Other than that, nothing too terribly exciting over the past two days.
School: I finished D100 Introduction to Spreadsheets on Saturday. I'm not positive because WGU doesn't do letter grades but I'm pretty sure I aced it. That competency bar was maxed out which always feels good! It's a 1 CU class so finishing in a few days is about right for my pacing. Tomorrow I'll start D082 Emotional and Cultural Intelligence. This will be my first performance assessment and honestly, I'm kind of looking forward to it. I hate doing the live proctor for testing. I'm hoping to have that class finished by Wednesday.
Bookish: This week has been so odd. I will go a few days and be lucky to make 25 pages in a day. Then on a random day I'll read over 200 pages on a weekday which is highly unusual for me. I've been trying to read Precious an Fragile Things by Megan Hart but it's a bit of a weird read so far. There isn't anything wrong with it but it isn't grabbing me either. I did finish Pack Up the Moon by Kristan Higgins on Friday. This was only 4 stars for me which is still amazing but I genuinely expected 5 stars. I can't quite put my finger on it but hoping I can flesh it out in my review.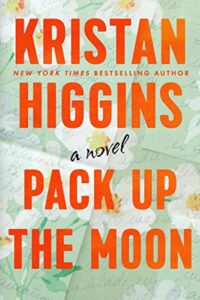 Technically only SVU Surveillance is being added to my TBR. I already own The Hobbit and The Fellowship of the Ring but I want to re-read The Hobbit and actually finish the series this year. I wanted the hardcover copies because I know they are going to end up on my keeper shelf.
How is your week shaping up? What exciting things are you reading?!