The Sunday Post is a weekly meme hosted by Kimberly at Caffeinated Reviewer. It's a chance to share news; a post to recap the past week on your blog and showcase books and things we have received. Share news about what is coming up on our blog for the week ahead.
Sunday:
Life: Today I ran myself ragged trying to meal prep all the things. I succeeded. But now I'm exhausted. I did have the bonus of watching The Fellowship of the Ring Extended Edition (HBO Max), on my iPad while I did it so it wasn't all bad! I also watched today's episode of Yellowjackets (Showtime) and to say I am stunned is an understatement. I know that it was picked up for Season 2 and now I'm nervous that there won't be a lot of resolution next week since there is a second season.
School: I PASSED! I passed with Exemplary results. I think I only missed a question or two but all sections were exemplary. I automatically went into my next class, D196 Principles of Financial and Managerial Accounting, and enrolled in it and checked the results that I got from the pre-assessment a week ago. Now I know the areas that I need to focus on which is basically the spreadsheet portion since I didn't understand what they were asking me to do. Now I have a game plan for the rest of the week.
Bookish: Not a lot to report here. Today was mostly split between preparing for the week ahead and doing school work. I read a whopping 12 pages of The Unhoneymooners. With my night off tomorrow I hope to get at least a little caught up.
Monday:
Life: I have a love/hate relationship with Mondays. I love them because time usually flies while I'm at work on Monday but it's Monday. Today was rather normal. Nothing too exciting happened. I cut Hub's hair tonight. He bought me Animal Crossing Monopoly because he's a sweetie. I read more grant information. I am almost done with that thank goodness.
School: Today was an easy day. I got my schedule for D196 into Todoist and read the introduction for the course. I took the pre-assessment for C168 Critical Thinking. I got a competent score but I was guessing in a lot of it. Both of these courses will be courses that I will be doing the course work on.
Bookish: Reading today has actually been pretty good! I got to listen to part of The Unhoneymooners and I think it got me over the hump with this book. Now I'm excited to see how it's going to work out for Ethan and Olive. (I'm also really going to have a hard time remembering their names. IYKYK.) I think I'm going to sign off now and go lay in bed and read a bit more of their story before bed.
Tuesday:
Life: Oh dear gentle readers. The level of WTF am I doing with my life was high today. So high. On days like this I just need to keep my head down and keep going and keep hoping. I have a lot of conflicting emotions and I know I'll work them out. Today just was not one for the books. Leaning on friends and family today has helped immensely. We did go out to a Mexican restaurant for dinner. Hubs knows when a day has been long and a good meal can go a long way. Love him.
School: Today was dry. I started Principles of Financial and Managerial Accounting. I started with Module 1 and it was all about what is accounting? who uses accounting? what are the governing bodies of accounting? It was just a lot of dry information about the basics of accounting. I missed 1 question out of 5 so not too bad.
Bookish: I stayed up way too late last night FINISHING The Unhoneymooners. I really enjoyed this book. It was a five star read for sure but I do have to say it was not my favorite Christina Lauren. It's going to take a lot I think to knock In a Holidaze off the #1 spot. Tonight I'm going to read a chapter of my non-fic and then crack open That's Not What Happened. I'm hoping that I'm going to find the story gripping and hard to put down. I do know that tonight is going to be an early night though because I was up too late last night.
Wednesday:
Life: Today was a bit better in the WTFery department. I think part of the problem is that I am a planner due to anxiety. I plan things to the ninth degree. I had no plan whatsoever for changing my job. I certainly never thought at 37 that I'd be going back to college. It isn't a bad thing and I made the decision for myself; however, I think because I just jumped with very little planning that I'm still reeling from all the changes. I truly believe that change is good, but change makes me uncomfortable. Even when it is good change. I think I just need to give myself a little more grace and time to adjust.
School: The dryness of this class continued a bit. Here's the thing, I've been in and around accounting in some form for most of my adult life. Certainly ever since my last position. I know what debits, credits, journal entries, and trial balances are. I even helped balance our general ledger accounts at my old job when there was difficulty figuring out why they didn't balance. For the most part, I know all the pieces so sitting through micro-videos about all of these things is dull. Then I'll pick up a tid bit of information that I didn't have prior. Today's tid bit was the accounting equation, assets, liabilities, and owner's equity. Also there are all these micro-videos and then the text version of what the video covers so it's a little redundant but I'm afraid of missing info so redundancy it is!
Bookish: Well. I had every intention of finishing That's Not What Happened tonight. I read 11 pages of it yesterday. I honestly wasn't surprised that I went to sleep early last night. This book is going to grip me there is no doubt about that. The issue is that both Hubs and I fell asleep somewhere around 7:30 PM on the couch. We apparently got too comfortable. It's now 9:30 and I am WIDE awake after that monster of an accidental power nap. Hubs is still asleep downstairs. I'm going to go lay in bed and keep on with the book. There's a strong chance I'll still finish the book. Just on a messed up sleep schedule. *sigh*
Thursday to Saturday:
Life: Not too much happened in the regular day to day during this time. I went to work and on Friday I had a very good day where I felt like I was starting to know things. I was able to handle a few problems and chatted with someone regarding a grant application and was able to articulate what I needed. It was a good day. We got 8″ of snow between Friday and Saturday night and our weekend plans were cancelled.
School: Due to weekend plans being canceled I spent literally all day on Saturday studying D196. I took eating breaks. I unloaded and loaded the dishwasher and rotated laundry loads when needed. I worked my way through so much information. I found an online reader that helps me retain as I am hearing and reading text simultaneously. This is the first course that I've had that I did not pass the pre-assessment so I was pretty diligent about making sure I was hitting all those learning checks. I made it through all the material and took the final and had exemplary results. Another one down.
Bookish: Since I last checked in with you, I have continued with Working with People I Want to Punch in the Throat. I finished That's Not What Happened and it's one of those books where I wished I used half stars. It is not a 3 star not is it a full 4 star. It is closer to 4 stars for me though so a 4 it will be. Having finished this book I am on track for finishing my TBR this month. I started Pack Up the Moon by Kristan Higgins and am already alternating between crying and laughing.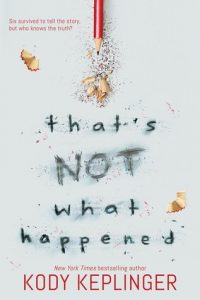 Another week, another week of not spending money on books!
How is your week shaping up? What exciting things are you reading?!