The Sunday Post is a weekly meme hosted by Kimberly at Caffeinated Reviewer. It's a chance to share news; a post to recap the past week on your blog and showcase books and things we have received. Share news about what is coming up on our blog for the week ahead.
Sunday:
Today is the first day that I've felt like myself in a long time. This past weekend Berls, Lillian, Michelle and I planned out COYER 2022 and I'm so excited. It definitely jumped my passion for reading and blogging again. I'm going to ride this wave for as long as it lasts.
I worked on the house for a little bit. I also mapped out my week in terms of what I'd like to make new habits for each day. I also scheduled out my homework for the week. I had been trying to do as much as I could as quickly as I could but I'm finding if I get too far ahead (even if its allowed) that I am off track with the rest of the class. This week I'm going to take a little bit of my own time back and just have clear expectations that school comes first before all other priorities. I have also tried to pick out ways to maximize my time. Fingers crossed it all works out well! I guess we'll see by the end of the post!
Monday:
I have a love/hate relationship with Mondays. I am feeling pretty drained tonight. I didn't sleep overly well last night and I always seem to start my weeks as super productive and taper off as the week continues. It's only 9 PM and I'm feeling exhausted. I know I didn't do my best in my classes tonight but I'm okay with that. I lost my 100% in Microeconomics but honestly, it was going to happen at some point. We got into supply and demand and graphs and I missed a multiple choice question. Not a big deal at all.
In other news, I managed to complete a lot of my goals for today and that feels pretty good! I'm off to put up my breakfast for the rest of the week, read my positive affirmations, and collapse in bed! Happy Monday everyone!
Tuesday:
Today was not a great day. It started out really well and I even had lunch out with a couple of coworkers. Then I came home and was on top of my home chores. It went sideways when I sat down to work on my Microeconomics homework. Up until last night I had a 100%. I still have a really high A. Overnight I feel like I have no idea what's happening. I'm stressing out about it. I've decided I'm going to call my homework done for the night and then I'm going to re-read the chapter sometime this week and see if that helps. If not, I'll be reaching out to the professor. For tonight, I'm going to grab a quick dinner, take a nice shower, and lay down and relax for a bit.
Wednesday:
Well as they say today was a new day. I had some highs and lows today and it all worked out fine. This morning I spent my morning looking over the history of our little city and looking at grant opportunities to fund a restoration we'd like to complete. It was really good experience for me and I think I'm going to get to start putting my hands into the grant process.
Also, I re-read the chapter in my Microeconomics class and it was still not making much sense for the assignment I was supposed to be doing. I wasn't going to let myself flounder though. I was in the middle of emailing the instructor about how it didn't make sense that price a wasn't also price b when the lightbulb went off. I wrapped up that assignment within 30 minutes and didn't have to email the instructor! I'm not particularly hungry tonight so I think I'm going to grab something simple and head to bed and enjoy reading for a few hours! before bed!
Thursday:
Today was another good day! I really do believe that bookending my days with my positive affirmations are helping to keep my mental health at a nice level. I'm also becoming more flexible in my scheduling and focusing on not stressing myself out. Today I worked hard at work shaping a spreadsheet for an upcoming software conversion. It may bleed into my weekend a little bit but that's alright. I also finished my microeconomics paper in one sitting. Now all I have left on my plate for this week is history. History is definitely a favorite subject of mine and I'm looking forward to the work in this unit.
Now I'm going to grab a light dinner. School is making my appetite at night virtually disappear and I'm not sure what's up with that. After that, I'm going to take a nice shower, read my positive affirmations, and finish my current BSC book!
Friday:
Fridays seem to be my hard days now. I think that's something I'm just going to have to embrace. I think it's because Monday through Thursday I work and then come home and start working on college courses right away. By the time Friday night comes I'm tired of it all. I didn't get everything done that I wanted to this week. A work project came up and I stayed late a few nights. I'm hoping this weekend will see some catch up.
Saturday:
Today was a good day. I did work from home on the big project that popped up. It's really just imputing data from a PDF into a spreadsheet to make the data easily manipulatable. I worked on that for 7 hours today. Then I finished reading my history chapter and took this week's quiz. I still have a short paper to write but I'm putting that on tomorrow's list.
When I first started classes a few weeks back I was insistent that I only get As in my classes. After just a few weeks I'm beginning to understand that having that high of a standard isn't going to be conducive to my life at the stage of life that I'm in. Really the end goal is to get the degree. I still want to do well and will be giving it my all. I've just accepted that I'm not going to sacrifice my present happiness for a higher GPA. It's amazing how peaceful life became once I accepted that.
Sunday:
The Last Mrs. Parrish by Liv Constantine Pgs 124 – 222 (98 pgs)
Total Pages Read this Week: 98
Monday:
The Last Mrs. Parrish by Liv Constantine Pgs 223 – 400 (178 pgs)
Total Pages Read this Week: 276
Tuesday:
Special Edition Readers' Request: Shannon's Story by Ann M. Martin Pgs 1 – 30 (30 pgs)
Bonds of Justice by Nalini Singh Pgs 1 – 33 (33 pgs)
Total Pages Read this Week: 339
Wednesday:
Special Edition Readers' Request: Shannon's Story by Ann M. Martin Pgs 31 – 78 (45 pgs)
Total Pages Read this Week: 384
Thursday:
Special Edition Readers' Request: Shannon's Story by Ann M. Martin Pgs 79 – 143 (65 pgs)
Total Pages Read this Week: 449
Friday:
Bonds of Justice by Nalini Singh Pgs 34 – 86 (52 pgs)
Total Pages Read this Week: 501
Saturday:
Bonds of Justice by Nalini Singh Pgs 87 – 208 (158 pgs)
Total Pages Read this Week: 659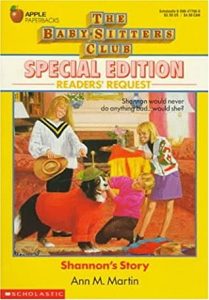 How is your week shaping up? What exciting things are you reading?!