This review was previously published on November 19th, 2015; however, Kristan Higgins is one of my go to romance writers and Summer of Love would not have been complete without one romance review for a Higgins book.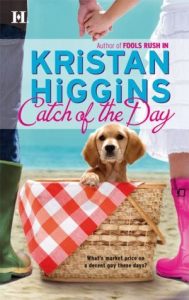 Catch of the Day by Kristan Higgins
Also by this author: The Next Best Thing, The Best Man
Series: Gideon's Cover #1
Published by HQN
Genres: Adult, Contemporary, Contemporary Romance, Romance
Pages: 384
Format: eBook
Source: Personal Collection
Add to: Goodreads

First Date à la Maggie
Take one lovelorn diner owner (me)
A generous helping of nosy local gossips
A dollop of envy at married sister's perfect life
A splash of divine intervention (my matchmaking priest)

Combine ingredients with one adorable puppy, add a strong but silent lobsterman with a hidden heart of gold . . - via GoodReads
I'm not even sure where to begin with Catch of the Day by Kristan Higgins. I suppose I can start by saying that Catch of the Day is my favorite Higgins book to date. There was just too much that worked for me in this book! And there were some parts that didn't.
Maggie is a sort of bumbling loveable woman. Maggie has a hard history of poor choices in men. The most recent being that she fell for the new priest in town. In her defense she didn't know it at the time but she didn't do anything to stop it after the fact either.
I have to say that Maggie's true love interest took me by surprise. M. Malone also know to the locals as Maloner the Loner turns out to be that diamond in the rough you didn't see coming. Malone probably wouldn't work for me in real life but I don't read romance to steep myself in reality. Can I get an amen?
Higgins can write a small town romance that will make you feel like you could go to that town and visit those characters. Not only can you see it but you want to! In closing I found this note on my phone:
"It's 11:30 at night. My department is permanently down a person. I'm quietly sobbing on my side of the bed because View Spoiler »a dog that doesn't exist outside of a novel has passed and his owner is hurting « Hide Spoiler and I don't want to wake my husband. My kindle tells me I'm not finishing this book until 1:30 am. No regrets."