I was really looking forward to Dorian's story in Hostage to Pleasure by Nalini Singh. I've noticed that so far in the Psy-Changeling series I don't love a couple while I'm reading their story. For some odd reason I expected more from Dorian's story. That expectation may have been my downfall. The ending was sort of abrupt for me and I highly recommend reading the short story "Dorian". I gave Hostage to Pleasure 4 out of 5 stars.
Jessi's Horrible Prank by Ann M. Martin made me feel my age! I can tell I'm getting older when I start to side with the adults! Lol. I understand these are middle grade books and not meant for 36 year old women. These kids were so many levels of mean and disrespectful. Jessi turned it around though. I honestly hurt for her at the end. There is nothing worse than feeling personally responsible for negatively impacting someone's life. I gave this story 3 out of 5 stars.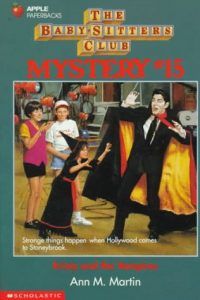 Stacey ended up doing some pretty unfair things in Stacey's Lie by Ann M. Martin. I can understand wanting to prioritize everyone in your life and therefore prioritizing none. It feels awful to let people down. I kind of felt like the backlash was a little severe; particularly on Stacey's father's part. In the end it all worked out though! I think that's why I enjoy these books so much. I gave this story 3 out of 5 stars.
Ah the 90s; when everything was hyper dramatic and the end of the world was always RIGHT THERE! (And they wonder why Millennials are an anxious bunch?) Anyway, Kristy and the Vampires by Ann M. Martin involves dangerous plots around a movie set and deranged obsessed stalkers. I mean seriously this one was a bit more far-fetched than the others but I still really enjoyed it! I gave the story 4 out of 5 stars.