April…..was another hard month. Some of the reading slump from March held on through the first few weeks of April. Most of my reading was done at the end of April. Honestly my stats aren't too terribly bad considering I didn't start tracking again until around the 22nd. Just before Dewey's something sparked in reading for me again. The rest of April reflects that. Dewey's was pretty successful for me even if I didn't stay up the whole time!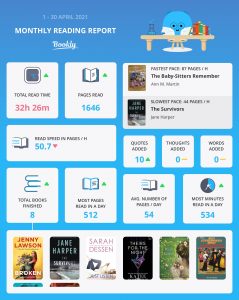 The Peach Keeper by Sarah Addison Allen was my stand out read of the month. It was one of those books that was the right book at the right time. After I finished The Peach Keeper I placed an order to pick up the rest of Allen's books.
What was your favorite read in April?