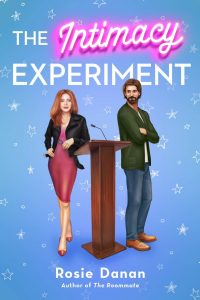 The Intimacy Experiment by Rosie Danan
Published by Berkley
Genres: Adult, Contemporary Romance
Format: eARC
Add to: Goodreads

Naomi and Ethan will test the boundaries of love in this provocative romance from the author of the ground-breaking debut, The Roommate.

Naomi Grant has built her life around going against the grain. After the sex-positive start-up she cofounded becomes an international sensation, she wants to extend her educational platform to live lecturing. Unfortunately, despite her long list of qualifications, higher ed won't hire her.

Ethan Cohen has recently received two honors: LA Mag named him one of the city's hottest bachelors and he became rabbi of his own synagogue. Taking a gamble in an effort to attract more millennials to the faith, the executive board hired Ethan because of his nontraditional background. Unfortunately, his shul is low on both funds and congregants. The board gives him three months to turn things around or else they'll close the doors of his synagogue for good.

Naomi and Ethan join forces to host a buzzy seminar series on Modern Intimacy, the perfect solution to their problems--until they discover a new one--their growing attraction to each other. They've built the syllabus for love's latest experiment, but neither of them expected they'd be the ones putting it to the test.

In January of this year I read and loved The Roommate. I thought it was fun, sexy, smart and seemed to be about real people with real issues. I enjoyed the romance to the plot development pieces. I was dying to get my hands on The Intimacy Experiment because I needed to be a part of this world for longer than just one book.
This book starts off with Naomi trying to use her skill set as a successful business woman to get into teaching and new educational roles about sex and intimacy. She keeps on missing the mark though due to the nature of what she wants to publicly speak about, until she meets Ethan. Ethan offers her the chance to come to his church do draw a younger crowd to his religious space, thus keeping investors happy.
I really enjoyed the interactions between Naomi and Clara, I love how their business has grown to be so successful and they have this great relationship on the page now compared to the first book. Every interaction between the two had me smiling and enjoying the time they were around one another with their easy conversation and their one liners.
Unfortunately, that was about all I enjoyed of this book. I felt the storyline between Naomi and Ethan was very dry. I did not get any emotions for either one of them on the page. I did not like that Ethan was constantly comparing everything in life back to his religion. I felt that this book spent a lot of time trying to teach us about religion and it was not fun for me. I didn't enjoy Ethan because he had nothing going on in his head other than religion and his awful stories. There was no connection between then and Naomi was just as boring as Ethan. I read this book till the 60% mark just because I loved the first book so much. I think even at 60% nothing had happened emotionally, plot wise, sex wise. Nada. So this one wasn't for me but I hope it connects with something for the rest of you.