[book-info]
I was honestly really surprised by this book and that made me really enjoy it. Yes it was incredibly far fetched but it's fiction and it was used to tell a morals story. Still. It was surprising and it shook the rut that I've been in with the BSC lately. I went into it thinking it was going to be all about the We Love Kids Club and it wasn't. Dawn did some VERY un-Dawn-like things and just wow. I'm pretty excited to get to the next book about Dawn now!



[book-info number="1″]
I really loved this book! I find it hard to dislike books about books. Mary Anne is also my favorite BSC member so it was the best of both worlds. I enjoyed the mystery and honestly didn't see the outcome until Mary Anne figured it out. Again it might have been a little far fetched and a little too much understanding compared to real life but man does it make you feel safe to read these books. I think it also really felt good to read this book now because it's been cold, snowy, and dreary here just like it was for Mary Anne. This will probably be a book I pick up again in the future when I want a comfort read.



[book-info number="2″]
Honestly Mary Anne and Miss Priss bored me a little. I did feel bad for Jenny. Often a parent gets wrapped up in the hobbies of one child. Not because the parents love that child more but because it just takes more time. And of course Andrea is far too young to really understand anything that is happening. There wasn't anything wrong with this book. It just wasn't very interesting.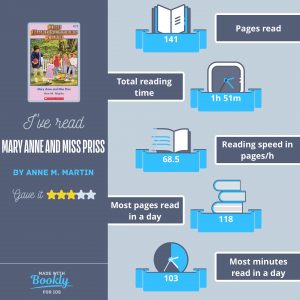 [book-info number="3″]
I really did like Kristy and the Copycat. I was a little nervous going in because Karen is best in small doses. Thankfully this book didn't focus on Karen very much. The primary focus was on Kristy and what she would be willing to do to get on the softball team. When I tell you my anxiety was running high during this book I am not exaggerating. I felt awful for Kristy. In the end, of course, it all worked out.