December wasn't exactly a slow reading month but it was a little distracted maybe? I didn't use the Bookly app for the last few days of the month because I thought I was going to go into the New Year all "who cares about stats? Not this girl. I just want to enjoy reading again." It was, in fact, this girl. I don't know why I fight it. I love stats and numbers!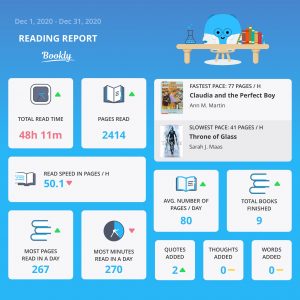 Hands down this was my favorite book of December. I picked it up at exactly the right time. It will be a book that I read every year at Christmastime. It was perfect for me and perfect at the right time. I won't gush too much here. I did that in my review!
What was your favorite read in December?