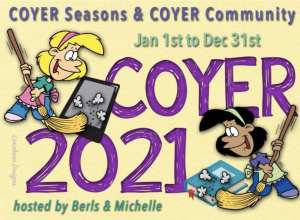 The lovely ladies over at Because Reading have created an amazing challenge for 2021. It has been so great to see the changes that rolled out over the course of the 2020 Quarantine Edition of COYER. I am very excited to announce my participation in the COYER 2021!
COYER Seasons
COYER Winter:
For COYER Winter I'm going to try to read at least one book each month that meets the COYER Winter guidelines. It's not a lot but I will have a lot of books going for my own reading as well as COYER community.
February reads:
COYER Spring:
April reads:
May reads:
June reads:
COYER Summer:
August reads:
September reads:
October reads:
COYER Fall:
December reads:
COYER Community
I'd like to participate in this area as much as I possibly can! It has been so much fun having this community to come to while I've been cut off from most everyone I know physically. I can't even begin to express how sanity saving and amazing this COYER Community is.
Buddy Reading:
Semester One – January to April:
January –
February –
March –
April –
Semester Two – May to August:
May –
June –
July –
August –
Semester Three – September to December:
September –
October –
November –
December –
DEAR Participation:
Semester One – January to April:
January –
February –
March –
April –
Semester Two – May to August:
May –
June –
July –
August –
Semester Three – September to December:
September –
October –
November –
December –
Read-a-thons:
Semester One – January to April:
January –
February –
March –
April –
Semester Two – May to August:
May –
June –
July –
August –
Semester Three – September to December:
September –
October –
November –
December –
Book Club:
Semester One – January to April:
January –
February –
March –
April –
Semester Two – May to August:
May –
June –
July –
August –
Semester Three – September to December:
September –
October –
November –
December –
Psy-Changling Chats:
Semester One – January to April:
January 3: Slave to Sensation
January 31: Vision of Heat
February 21: Caressed by Ice
March 21: Mine to Posses
April 18: Hostage to Pleasure
Semester Two – May to August:
May 9: Branded by Fire
May 30: Blaze of Memory
June 20: Bonds of Justice
July 18: Play of Passion
August 8: Kiss of Snow
August 29: Tangle of Need
Semester Three – September to December:
September 19: Heart of Obsidian
October 17: Shield of Winter
November 7: Shards of Hope
December 5: Allegiance of Honor
Pen Pals:
Semester One – January to April:
January –
February –
March –
April –
Semester Two – May to August:
May –
June –
July –
August –
Semester Three – September to December:
September –
October –
November –
December –
Blog review visiting:
Semester One – January to April:
January –
February –
March –
April –
Semester Two – May to August:
May –
June –
July –
August –
Semester Three – September to December:
September –
October –
November –
December –