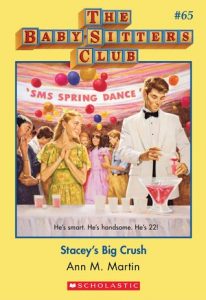 Stacey's Big Crush by Ann M. Martin
Also by this author: Kristy's Great Idea, Baby-Sitters on Board!
Series: The Baby-Sitters Club #65
Also in this series: Kristy's Great Idea, Baby-Sitters on Board!
Genres: Middle Grade, Contemporary
Pages: 140
Format: eBook
Read in: September 2020
Reading Challenges: 2020 GoodReads
Source: Personal Collection
Add to: Goodreads

Stacey's in love and this time it's for real. Wes is 22, looks like a film star and he and Stacey have been spending time together in the classroom. Wes is Stacey's substitute maths teacher! The babysitters think she's in too deep this time, but Stacey's confident that love will conquer all. - via GoodReads
Oof. This one hits a lot differently in 2020. I very much doubt it would be published the same way today. Stacey has a big crush on her college aged math teacher. Reading this book was a lot of second hand embarrassment. Eventually Stacey figured it out. This review is purposely short because….YIKES.



I really like this one…until the end. Wandering around a well maintained mansion like that would have been so much fun! This also reminds me how different life was in the 90s. If the phone lines went down you had no way of contacting people. It lost major points when View Spoiler »the missing girl ended up being right there in Stoneybrook! Granted she'd only been back a few years but still! « Hide Spoiler



Honestly this Super Special dragged a bit but it was still a fun read! All of the BSC gets to come at some point to Sea City. I liked that Jessi and Mal were the mother's helpers. Stacey really did not communicate well and I could understand how hurt Mallory was. I also liked that the little kids got to have chapters as well. I really enjoyed those.



This was an interesting read. This is the second book told from Logan's perspective. It really shows just how easy it is to fall into the wrong crowd. I feel like Logan was extremely naive to not see what was going on around him. It's hard to see bad things when you're trying to see only the good in people.
Reading this book contributed to these challenges: