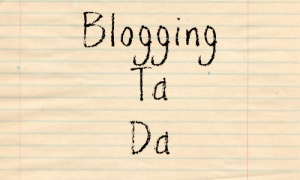 Well hhhhhhheeeeeeeeeeyyyyyyyyy! I have goals and I really WANT to accomplish these goals. I broke down all of my goals and tried to determine how much I could accomplish each day. My biggest issue is being an overachiever and burning myself out on Monday and then ignoring all of the carefully constructed plans the rest of the week. I hope that by evenly distributing the work over the entire week, I'll see more success.
November Goal Check In:
Catch up review notes.
Schedule all pending reviews.
Once pending reviews are caught up; stay current.
Schedule all Blogging Ta Da Posts & Wednesday Weekly Wrap Ups for November.
Block out November posts.
Draft November weekly posts.
Draft November TBR review posts.
Create November 2020 reading goals.
Unpack all of my library boxes (this actually excludes books for the time being).
Process one bookshelf of books through my cataloging system.
Spend a few hours each week finishing up my Notion set up.
What I'm doing this week to reach those goals:
Tuesday:
Check/tidy blog roll
Write Hounded review notes
Write October 2020 BSC review notes
Schedule September 2020 BSC reviews
Schedule Mother Knows Best review
Finalize Wednesday Weekly Wrap Up
Wednesday:
Update GoodReads with purchases
Draft November 2020 TBR review posts
Update wrap up post
Write Half-blood review notes
Write Well Met review notes
Schedule Pleasure Unbound review
Schedule The Last Move review
Thursday:
Write The Awful Path to Getting Lucky review notes
Write A Darker Shade of Magic review notes
Schedule Hounded review
Schedule October BSC reviews
Process one stack of books
Friday:
Write The Medical Examiner review notes
Write Trail of Lightning review notes
Schedule Half-blood review
Schedule Well Met review
Process one stack of books
Saturday:
Schedule The Awkward Path to Getting Lucky review
Schedule A Darker Shade of Magic review
Spend an hour working on Notion
Process one stack of books
Sunday:
Schedule Daimon review
Schedule Tail of Lightning review
Spend an hour working on Notion
Process one stack of books
Monday:
Draft December's TBR review posts
Clean up sidebar
Finalize Blogging Ta Da
Schedule The Medical Examiner review