I received this book for free from NetGalley in exchange for an honest review. This does not affect my opinion of the book or the content of my review.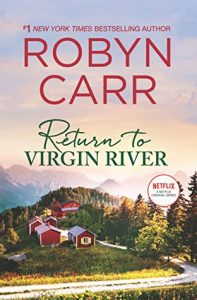 Return to Virgin River by Robyn Carr
Also by this author: Four Friends, The Promise
Series: Virgin River #19
Also in this series: Whispering Rock, A Virgin River Christmas
Published by MIRA
Genres: Adult, Contemporary Romance, Romance
Pages: 320
Format: eARC
Read in: September 2020
Reading Challenges: 2020 GoodReads
Source: NetGalley
Add to: Goodreads

Kaylee Sloan's home in Southern California is full of wonderful memories of the woman who raised her. But the memories are prolonging her grief over her mother's recent death. A successful author, Kaylee hoped she could pour herself into her work. Instead she has terrible writer's block and a looming deadline.

Determined to escape distractions and avoid the holiday season, Kaylee borrows a cabin in Virgin River. She knows the isolation will help her writing, and as she drives north through the mountains and the majestic redwoods, she immediately feels inspired. Until she arrives at a building that has just gone up in flames. Devastated, she heads to Jack's Bar to plan her next steps. The local watering hole is the heart of the town, and once she crosses the threshold, she's surprised to be embraced by people who are more than willing to help a friend--or a stranger--in need.

Kaylee's world is expanding in ways she never dreamed possible. And when she rescues a kitten followed by a dog with a litter of puppies, she finds her heart opening up to the animals who need her. And then there's the dog trainer who knows exactly how to help her. As the holidays approach, Kaylee's dread turns to wonder. Because there's no better place to spend Christmas than Virgin River. - via GoodReads
I was so excited to see a new addition to the Virgin River series! I recently started reading the series in earnest and I love it! I've also watched the Netflix adaptation. When the chance to review Return to Virgin River by Robyn Carr presented itself, I jumped on it!
Return to Virgin River harkened back to the book that started it all: Virgin River. Honestly the plot of Return to Virgin River was very similar to Virgin River. It makes for an excellent read for people looking for more of that type of story.
For me personally it was wonderful, familiar, and comfortable. During an uncertain time I really loved the chance to watch two people fall in love. Autumn in a small town was perfect timing!
My heart hurt for Kaylee. I can't possibly imagine the enormity of losing your mother. The first holidays are always tough. Kaylee is trying to find solace in the mountains.
I also really liked Landry. I did find his circumstances a little difficult to believe but I know that it happens. I felt that Landry balanced Kaylee well. I loved seeing all the familiar faces too! It was like catching up with old friends.
I haven't read the Virgin River series in its entirety so Return to Virgin River by Robyn Carr can stand on its own. I adored it and think it is the perfect autumn read!
Reading this book contributed to these challenges: