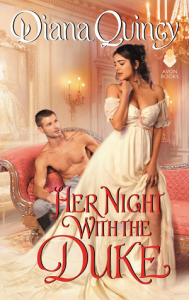 Her Night with the Duke by Diana Quincy
Series: Clandestine Affairs #1
Published by Avon
Genres: Historical Romance
Format: eARC
Add to: Goodreads

Desire knows no reason...

When Lady Delilah Chambers finds herself stranded at a country inn on a rain-swept evening, she's forced to fend off a group of ruffians with the help of a handsome gentleman. Irresistibly drawn to each other, Leela and the stranger spend one reckless night in each others' arms—and then go their separate ways. But the very next day Leela receives the shock of her life when she meets the duke who is set on wedding her beloved stepdaughter.

When it finds two destined hearts...

One night isn't enough with a woman as fierce, fiery, and brilliant as Leela. Elliot Townsend, Duke of Huntington, cannot believe his good fortune when their chance encounter leads to an unforgettable evening of passion. Yet Hunt's luck runs out when he is introduced to his prospective mother-in-law. Dowagers aren't supposed to look like this...

Leela and Hunt are determined to keep each other at arm's length, which should be easy enough for two intelligent adults with reputations to uphold. The problem is all logic is lost when it comes to a passion that refuses to be ignored.
I was so excited to read this book because it is not often that you know that a historical romance book is going to start off with a steamy affair and I was excited to see how the relationship grew from a one night stand.
I really loved the leading lady of this novel, Leela, because she knew what she wanted to do with her life and she was never willing to compromise on that. Leela was a strong character throughout the novel, she fights for her rights and does not think she should be tied down in a world that she feels she will never belong in.
Opposite her is the Duke, Elliot, who feels he has to follow every rule of society due to his reckless older brother who held the title before him. His plan is to marry a companion and continue on the family line with the least amount of scandal as possible.
I'm not sure what it was with these two but I never really felt their connection. I saw them as friends on the page and I liked that the book did at times explore Leela's sexual desires and showed a woman willing to seek out her pleasure, but I just didn't really feel that Elliot fit her needs. I know male romance leads in historical romance are suppose to be strong willed and give a good fight against their wants and wishes when it comes to the leading lady but this just went too far. Elliot was never there for Leela in the way I wanted him to be. He spends most of the novel rejecting her at the worst times and I guess as the book went on I never forgave him and I wanted better for Leela.
Ultimately, I loved the sexual boundaries that this novel pushed for a historical romance and I did love the leading lady. The biggest disappointment to me in this one was the male lead.