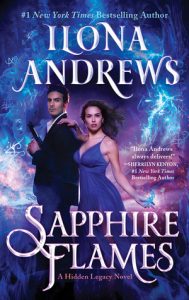 Sapphire Flames by Ilona Andrews
Also by this author: Burn for Me, White Hot
Series: Hidden Legacy #4
Also in this series: Burn for Me, White Hot
Published by Avon
Genres: Adult, Paranormal Romance
Format: eARC
Add to: Goodreads

From #1 New York Times bestselling author Ilona Andrews comes an enthralling new trilogy set in the Hidden Legacy world, where magic means power, and family bloodlines are the new currency of society…

In a world where magic is the key to power and wealth, Catalina Baylor is a Prime, the highest rank of magic user, and the Head of her House. Catalina has always been afraid to use her unique powers, but when her friend's mother and sister are murdered, Catalina risks her reputation and safety to unravel the mystery.

But behind the scenes powerful forces are at work, and one of them is Alessandro Sagredo, the Italian Prime who was once Catalina's teenage crush. Dangerous and unpredictable, Alessandro's true motives are unclear, but he's drawn to Catalina like a moth to a flame.

To help her friend, Catalina must test the limits of her extraordinary powers, but doing so may cost her both her House–and her heart.
I have loved Ilona Andrews' books for years and I am really excited to see what they do with this new portion of the Hidden Legacy series.
The world has changed a bit since the first trilogy since Nevada's sisters have grown up and had to take over the family business. Catalina is the Prime of the family now and she has learned to better use her power although she is still a little afraid of how it makes people fall in love with her. Having this power means she never really does trust new people coming into her life and saying they care for her. Do they want her, her power, or did her power make them fall for her.
Alessandro was a character that I felt I had a really hard time caring for in this novel. His motives were always really unclear and we never really got a great reading on him since there wasn't that much romance going on in this book. I really wish he would have shown us a bit more of his true self and even what his motives were in this book. His character is still a mystery even after reading the entire book.
As always the magic and action in this story was everything, there are always really amazing scenes to read to see how the magic blends in with the fighting and action. I do wish that more of the story could have taken place further out into the world and not just mostly at the compound where they all lived.
Ultimately, I did like this story but I was left wanting a bit more romance and a bit more of the main character's connection. I really hope that the rest of the books add more romance and connection between the characters.