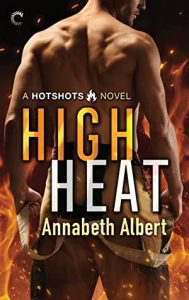 High Heat by Annabeth Albert
Also by this author: Burn Zone, Feel the Fire
Series: Hot Shots #2
Also in this series: Burn Zone, Feel the Fire
Published by Carina Press
Genres: Adult, Contemporary Romance
Format: eARC
Add to: Goodreads

Annabeth Albert's Hotshots series continues—the emotions and intensity of Chicago Fire with the raw, natural elements of Man vs. Wild .

Smoke jumping is Garrick Nelson's life. Nothing, not severe injuries nor the brutal physical therapy that follows, is going to stop him from getting back with his crew. But when a lost dog shows up on his front porch, he can't turn her away, and he can't take care of her on his own. Thankfully, help comes in the form of his new sexy, dog-loving neighbor. As they work together, trying to re-home their little princess, Garrick can't resist his growing attraction for the other man, even though he knows this guy isn't the staying type.

Rain Fisher doesn't take anything too seriously. He dances through life, one adventure at a time, never settling in one place for too long. When his hot, conveniently buff, neighbor shows up on his doorstep, dog in tow, Rain's determined to not just save the adorable puppy, but her reluctant owner as well. He never expects their flirtation might tempt him into stay put once and for all...

Danger lurks everywhere for Central Oregon's fire crews, but the biggest risk of all might be losing their hearts. Don't miss the Hotshots series from Annabeth Albert: Burn Zone, High Heat, and Feel the Fire.
I really enjoyed returning to the world that Annabeth Albert created in the first book of this series. I loved being back in the small town with characters that I knew some from the first book. It was interesting to see what happened to Garrick after the accident in the previous book and how he handled the recovery period. I knew I wanted to know more about him from the first book and I'm glad I got to see from his perspective in this novel.
For me the best thing about this series is the emotional content of the series. Each book really makes you stop and think about real life events and how the characters have to find ways through rough relationship starts, people not accepting who they are, or even how one deals with a life changing event. The way that the characters are always there for one another in this series is where it shines.
In this book, I do have to be honest and say that I did not enjoy Rain and Garrick as much as I enjoyed Lincoln and Jacob. The story in this sequel just fell a little flat in certain spots. Even at the halfway mark in this novel the main couple did not venture outside of the setting of Garrick's house all that much. The story just seemed a little limited in setting and I did miss the smoke jumping scenes from the first book. I missed the excitement of the fires that the first book had.
Overall, I still enjoyed this book, it does have a lot to offer. However, with any romance book that is part of a series I always tend to pick my favorite couple and I think that Rain and Garrick just missed the mark a little for me in what I personally look for. I know that they will be the favorite couple for many readers though. I can't wait to see what the third book has in store.