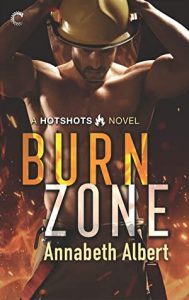 Burn Zone by Annabeth Albert
Also by this author: Feel the Fire
Series: Hot Shots #1
Also in this series: Feel the Fire
Published by Carina Press
Genres: Adult, Contemporary Romance
Format: eARC
Add to: Goodreads

Introducing Annabeth Albert's Hotshots series—the emotions and intensity of Chicago Fire with the raw, natural elements of Man vs. Wild.

Danger lurks everywhere for Central Oregon's fire crews, but the biggest risk of all might be losing their hearts…

Smoke jumper Lincoln Reid is speechless to see Jacob Hartman among his squad's new recruits. Linc had promised his late best friend he'd stay away from his little brother. And yet here Jacob is…and almost instantly, the same temptation Linc has always felt around him is causing way too many problems.

Jacob gets everyone's concerns, but he's waited years for his shot at joining the elite smoke jumping team, hoping to honor his brother's memory. He's ready to tackle any challenge Linc throws his way, and senses the chemistry between them—chemistry Linc insists on ignoring—is still alive and kicking. This time, Jacob's determined to get what he wants.

Close quarters and high stakes make it difficult for Linc to keep his resolve, never mind do so while also making sure the rookie's safe. But the closer they get, the more Linc's plan to leave at the end of the season risks him breaking another promise: the one his heart wants to make to Jacob.
This book starts off by introducing the reader to a cast of mostly male characters who are smoke jumpers in a small town. Each man has been on the crew for a long time and understands the risks that are involved with stopping fires within the area. Lincoln is a long time member of the crew who is concerned when his friend's brother wants to join the team after his brother's death. Lincoln wants to save the new young hot shot, Jacob, from the deadly nature of their jobs.
Lincoln is a man who has mostly kept to himself over the years since it is not widely known that he is gay. Jacob on the other hand has been out with his family for a few years and he knows there are old sparks between him and Lincoln. The two spend time circling around each other and their feelings for one another. They eventually decide to let their passion be unleashed one night and sparks fly.
I have to say the strength of this book was the connection between Jacob and Lincoln. I really loved reading about the pair of them and how they were so attracted to one another but had issues forming a relationship and also making it work. It felt very real to me and I enjoyed watching them triumph and also have moments of doubts. Jacob was certainly a favorite of mine because he knew what he wanted and he wasn't afraid to try new things, to take a leap of faith that things would work. I do have to say one small element that is a little drawn out is Lincolns refusal to move forward with his life in a more positive way. Lincoln provides all of the issues in their relationship and while I understand why he was hesitant about issues, he does hold up the story for quite a long time with his way of thinking and attitude.
Overall, if you are looking for a good M/M romance where there is depth of feeling and passion then this is the story for you. I really can not wait to read more books set in this world because Albert is a new to me author but you can be sure this isn't the last book of hers I will read. Now to wait impatiently for High Heat, the second book in the series.