Back around 2011 or so there was a book blog that I followed that did a monthly feature called "Random Acts of Kindness" and it stopped after awhile. I'm sure it became quite the chore to keep up because it BLEW up with so many participants. I've been seeing a ton of Tweets lately about wish list threads and how much they are helping during isolation.
I never once considered adding myself to one of these threads. If you suffer from low grade social anxiety like me, you question whether or not you deserve to put your wish list in those threads. Do you interact with that person enough to justify adding your name? The questions can be pretty rough and in the end I never considered myself worthy. Until I saw a tweet from Jana.
Does anyone feel really reluctant to add their wish list to all of the sweet wish list giving threads because they don't think they're worthy of that kindness? Me too. If you feel like that, post yours here. Everyone is welcome, and we all love you. https://t.co/eCz00sc7Dy

— Jana (@ArtsyReaderGirl) April 22, 2020
There is something so freeing in seeing someone else sharing the same feelings that you have, especially when they are of this nature. Once I saw that I stopped putting restrictions on myself. I had the best day yesterday because I was able to send gifts. Some were received yesterday and some are going to be mailed out in the next few days.
It was awesome to send out so many good vibes and I was also spoiled. It was the first good Wednesday that I've had in awhile where I wasn't really crabby by the end of the day! (Wednesday is my really hard day for whatever reason. I don't get it.) This is something that I want to keep doing even after isolation. So I need to be able to have this information readily available and I also need to track my spending because this is something that I could spend a LOT of money on without realizing it.
Naturally this led to a spreadsheet: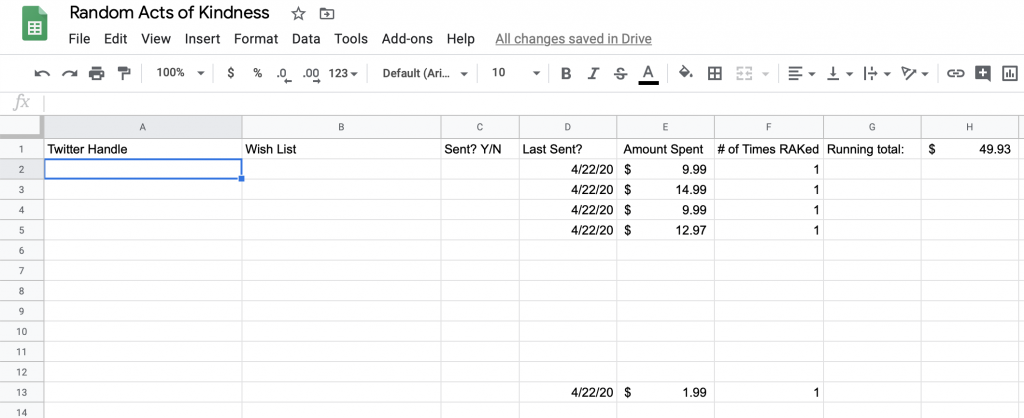 I thought it would be a good idea to share this because so many people are doing it. I'm sure everyone has their own method of doing it but I wanted to share in case it helps someone!
If you want to join in on the fun drop your wish list in my Twitter thread!
Alright! I want to do the thing! I love sending surprises. Hit me up with your wish lists! ?Here's mine! I'll come back later and see what there is to see. https://t.co/U5DY0MVzRG

— Stephanie (@OUAC_Stephanie) April 22, 2020