I received this book for free from NetGalley in exchange for an honest review. This does not affect my opinion of the book or the content of my review.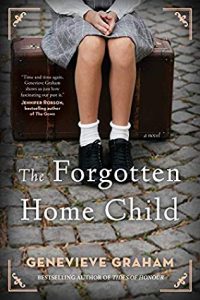 The Forgotten Home Child by Genevieve Graham
Also by this author: Somewhere to Dream, Come from Away
Published by Simon & Schuster
Genres: Adult, Historical, Fiction, Romance, Historical Romance
Pages: 377
Format: eARC
Read in: January 2020
Reading Challenges: 2020 GoodReads
Source: NetGalley
Add to: Goodreads

The Home for Unwanted Girls meets Orphan Train in this unforgettable novel about a young girl caught in a scheme to rid England's streets of destitute children, and the lengths she will go to find her way home—based on the true story of the British Home Children.

2018

At ninety-seven years old, Winnifred Ellis knows she doesn't have much time left, and it is almost a relief to realize that once she is gone, the truth about her shameful past will die with her. But when her great-grandson Jamie, the spitting image of her dear late husband, asks about his family tree, Winnifred can't lie any longer, even if it means breaking a promise she made so long ago...

1936

Fifteen-year-old Winny has never known a real home. After running away from an abusive stepfather, she falls in with Mary, Jack, and their ragtag group of friends roaming the streets of Liverpool. When the children are caught stealing food, Winny and Mary are left in Dr. Barnardo's Barkingside Home for Girls, a local home for orphans and forgotten children found in the city's slums. At Barkingside, Winny learns she will soon join other boys and girls in a faraway place called Canada, where families and better lives await them.

But Winny's hopes are dashed when she is separated from her friends and sent to live with a family that has no use for another daughter. Instead, they have paid for an indentured servant to work on their farm. Faced with this harsh new reality, Winny clings to the belief that she will someday find her friends again.

Inspired by true events, The Forgotten Home Child is a moving and heartbreaking novel about place, belonging, and family—the one we make for ourselves and its enduring power to draw us home. - via GoodReads
This was it. This was the one. The Forgotten Home Child by Genevieve Graham is what landed her on my auto-buy list of authors. (Just to be clear there's only one other author so far that I will buy whatever they decide to put out. Most of my other pre-orders are series continuations or buzz from other bloggers.) Graham had me spellbound. I stayed up pretty late for me on a workweek night to get as far as I could. The next day I stayed up until 2 am to finish it. I had to know what happened.
While the way Graham decided to tell us Winny's story isn't necessarily new, it is captivating. Of course Graham had her unique way of doing so. We get snippets of the present with the majority of the book being written in Winny's past. It is some past. Then we have chapters that alternate between Winny and Jack. Graham won points because she taught me something new about fairly recent history. I was completely floored. I really want to go into detail about it but it might be a pretty big spoiler and I hate spoilers.
The Forgotten Home Child made me feel all of the emotions. All. Of. Them. My face has never contorted in rage while reading a book. My face completely gives me away every time. I've never been so angry as I was when I read parts of this book. Face contortions happened. I teared up multiple times throughout the book. It also filled me with pride for Winny and her rag tag family. What Winny and her friends experienced was horrific and that's just the beginning of it. I'm still stunned by the way they refused to give up or be what they were told they were.
I adored the characters in this book. I really connected with Winny and therefore by default with Mary, Jack, Edward, and Cecil. It made reading much more intense. I rallied with them. I was with them when they were broken. Reading The Forgotten Home Child was such a great experience and it made me aware of a part of history that isn't talked about. It just recently received attention within the last 5 or so years. It's a part of history that has effects still today.
I really could keep going on and on about The Forgotten Home Child by Genevieve Graham. It was an amazing read and I enjoyed it so much that I pre-ordered a copy. I don't think that you need to be a fan of historical fiction to fall in love this book. I truly believe that it will resonate with all readers. It's a beautiful story that needed to be written. Now it needs to be read.
Reading this book contributed to these challenges: