I received this book for free from NetGalley in exchange for an honest review. This does not affect my opinion of the book or the content of my review.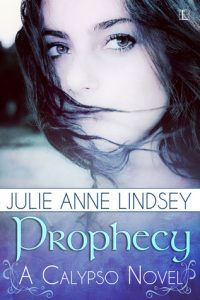 Prophecy by Julie Anne Lindsey
Series: Calypso #1
Published by Lyrical Press
Pages: 238
Format: eARC, Paperback, eBook
Reading Challenges: 2019 GoodReads
Source: NetGalley
Add to: Goodreads

On the other side of death, is destiny.

Callie Ingram is spending her senior year focused on one thing: swimming. Her skill as a competitive swimmer is going to secure a scholarship and her future, or so she hopes. She has big plans, and Liam Hale, her gorgeous new neighbor, isn't going to affect them. But when Callie sees Liam beheading someone, she learns his family has a secret that will change everything. The Hales are Vikings, demi-gods who've been charged by The Fates to find their new destined leader.

Callie's caught in the middle of a budding Norse apocalypse, in love with Liam Hale and desperate to protect her best friend…who the Hales believe is marked for transformation. Putting the clues together as fast as she can, can discovers she has the power to rewrite destiny, for herself and all humankind. - via GoodReads
Prophecy by Julie Anne Lindsey was my oldest outstanding ARC on NetGalley. I have to say that I'm sorry it took me so long to read but I think I found it at the right time for me.
Prophecy was a lot like other young adult paranormal novels of the time period. It felt like it read a lot like Twilight….but since I've been thinking of doing a series re-read of Twilight this wasn't a bad thing. The really good thing was that it was just different enough even if it had the same vibes. If I start talking about too many details it gets spoilery so I'm just going to leave it at that.
I really liked Prophecy. I'll admit that I read this book because I'm trying to amp up my NetGalley ratio. I even read it knowing that the series only made it to two books and doesn't have a resolution. I still really enjoyed it. I even bought a copy of the second book because I want to continue the story even if it doesn't have a resolution.
I enjoyed the characters and I'm pretty excited to head back to that small town and see what happens next. I did struggle with the beginning. The pacing was a little slow but it picked up. I'm glad that I got this one checked off my list because not only did I get to check it off my list but I also got to read a good story while I was at it!
Reading this book contributed to these challenges: