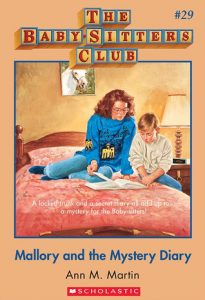 Mallory and the Mystery Diary by Ann M. Martin
Also by this author: Kristy's Great Idea, Baby-Sitters on Board!
Series: The Baby-Sitters Club #29
Also in this series: Kristy's Great Idea, Baby-Sitters on Board!
Published by Scholastic Inc
Genres: Middle Grade, Contemporary
Pages: 144
Format: eBook
Read in: May 2019
Reading Challenges: 2019 GoodReads
Source: Personal Collection
Add to: Goodreads

Mallory and Claudia are helping Stacey unpack from her move back to Stoneybrook when they find an antique trunk in the McGill's attic. Stacey doesn't want the dusty thing, so she gives the trunk to Mallory...who finds an old diary at the bottom of it.
The diary belonged to Sophie, a girl who lived in Stacey's house in the 1890s. As Mallory reads deep into Sophie's diary, she discovers a mystery on their hands to solve, because Stacey's house isn't big enough for her, her mom..and a family of ghosts! - via GoodReads
I'm really beginning to like Mallory! In Mallory and the Mystery Diary she finds a diary from the late 1800s in Stacey's attic. Mallory makes a reader of Buddy Barrett and together they solve the mystery of the diary. Loved this book! I also really liked how Mallory worked with Buddy to make him a reader. I know that feeling and it is a great one! Love this sweet nostalgic series!



The majority of the girls REALLY annoyed me in this one. It was just nonsense. Mary Anne was just shy of being the psycho girlfriend, Jessi just seemed to be in a foul mood the whole time, Mallory was trying to concoct some moronic poisoning plot with zero basis in reality, Kristy was STUPID competitive, and Claudia was lusting after a grown man with a family. Folks, she was genuinely HURT that this man was not interested. Yes, I remember being that age but I honestly don't think any of my friends were that wrapped up in a day dream about an older man that deeply that it caused real emotions in actual reality. They all needed a jolt of reality in this one and that's saying something! Looks like Stacey is missing from my list! She was actually gone through a lot of the Baby-sitters' Winter Vacation. She also didn't act a fool in this book.



This one seemed to tone down the drama a bit. I could completely understand where both Dawn and Mary Anne were coming from. Who among us didn't think that living with our best friend like sisters was anything short of miraculous? I know I lived for those moments with my friends. Of course with the clarity of adulthood, it wouldn't have been all sunshine and roses. I'm sure that Dawn and Mary Anne will end up working through their differences and find some common ground.



I really enjoyed Dawn's Wicked Stepsister! The girls had been getting overly whiny, and while that is still a little bit true, I loved Dawn taking control of her emotions. I'm hoping going forward their books have less family drama as the Schafer/Spier household finds common ground.


Reading this book contributed to these challenges: