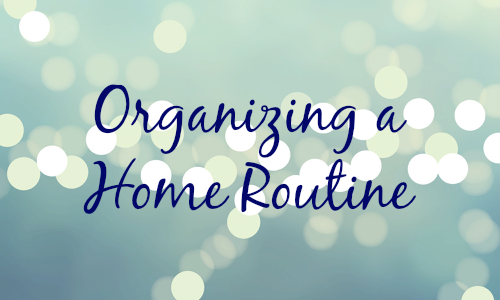 One of my biggest struggles in life has always been keeping a neat and organized house. You would think from somebody with a type A personality that this wouldn't be such an issue but alas it is. We do have a clean house; it's just not what I would like for it to be yet.
One of my coworkers who was in her 60s (to my 20s) once told me that if she didn't do her daily chores when she got home from work then she wouldn't do them at all. If she sat down, it was game over for the night. I can't tell you HOW true that is for me.
We moved in August and that shook things up for several months before and after as we went through our first ever long(ish) distance move and packing/unpacking. Then we purchased our new house in December. We moved our whole house twice within the span of just six months.
The dust is starting to settle and I'm starting to be comfortable with the new schedule of our lives and our new home. It's high time I got something worked out so I can evenly distribute my chores throughout the week. This is my rough draft (you know how I love a list!):
Daily:
Make our bed.
Empty/load dishwasher.
Deal with mail.
Weekly:
Monday:

Wash, dry, fold, and put away towels.

Clean bathrooms.

Tuesday:

Wash, dry, fold, and put away my laundry.

Wednedsay:

Vacuum/sweep entire house.

Thursday:

Clean out bird cage.

Friday:

Balance checkbooks.

Pay bills.

Saturday:

Wash bedding.

Mop kitchen.

Sunday:

Empty trash bins around the house.

Clean out refrigerator.

Take trash/recycle to the curb.

Meal plan/cut veggies.




Do you have set days when you do your chores or do you just wing it?