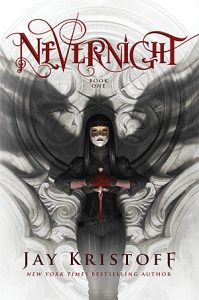 Nevernight by Jay Kristoff
Also by this author: Illuminae, Nevernight
Also in this series: Nevernight, Godsgrave
Published by St. Martin's Press
Genres: Adult, Fantasy
Format: Hardcover
Add to: Goodreads

In a land where three suns almost never set, a fledgling killer joins a school of assassins, seeking vengeance against the powers who destroyed her family.

Daughter of an executed traitor, Mia Corvere is barely able to escape her father's failed rebellion with her life. Alone and friendless, she hides in a city built from the bones of a dead god, hunted by the Senate and her father's former comrades. But her gift for speaking with the shadows leads her to the door of a retired killer, and a future she never imagined.

Now, Mia is apprenticed to the deadliest flock of assassins in the entire Republic—the Red Church. If she bests her fellow students in contests of steel, poison and the subtle arts, she'll be inducted among the Blades of the Lady of Blessed Murder, and one step closer to the vengeance she desires. But a killer is loose within the Church's halls, the bloody secrets of Mia's past return to haunt her, and a plot to bring down the entire congregation is unfolding in the shadows she so loves.

Will she even survive to initiation, let alone have her revenge?
I have already read and reviewed this book on the blog before but I feel my opinion has changed with my re-read so I really want to update my review with a new one. The older one from 2017 will stay up on the blog in the event you would like to look back to see how my mind has changed.
Starting this one again so I can read the rest of the series was a lot of fun. I felt like I was coming back to characters that I really liked and a storyline that was full of dark mystery. I don't know why but over the last year or so I have fallen in love with darker stories where boundaries are pushed more. I was not in this mood when I read this back in the very beginning of 2017. So I feel now this book fit my mood and aesthetic more than in the past.
I really love watching Mia grow in this story while still having her weaker moments. I also fell back in love with Tric, he was even better than I remembered. I also enjoyed learning the story and ways in which the world works all over again. I was swept away this time by the same things I was last time; I enjoyed watching Mia at the Mountain and how her whole world changes while she tries to stay true to herself. I forgot how much romance there was in this one and I appreciated Kristoff's take on this while staying true to a darker storyline.
Overall, I am still not saying a whole lot in this review because this book hinges on some deep secrets, you have to want the twists and turns. I would not want to spoil any of it for you. Just go read this one if you would like a great coming of age story, dark fantasy, blood, and a cat who is not so cat like.