Today's review is a little bit different than the other book reviews I do here at Once Upon a Chapter. Today I wanted to review an app that has been making a big change in my reading life. It's been around for awhile now and I've had it since pretty close to the beginning. I originally paid $5 for the pro version of it but switched it to the yearly plan because developers need a revenue stream in order to keep developing the apps that we love.
Today I wanted to share the Bookly app with you! It originally came out on the Apple platform but has since been released on the Android platform as well. I really enjoy using Bookly and have it downloaded on both my phone and iPad (it's the phone version but still works!).
One of the first screens I see when I open Bookly is my carousel of books. Which books they are depends on which collection I had open the last time I was in the app. Pictured above is my Finished collection where I move all my books once I've read them. Normally I have the "Currently Reading" collection open to make it quicker to start reading.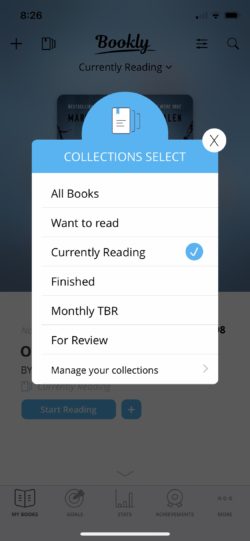 In this screenshot you can see all of my collections. Collections are created by the user so these are just the ones that I've made.
Here you can see the reading session screens. One of the features that I love is that you can listen to ambient noises while you read. I'm particularly fond of Distant Thunders and Ocean Waves. I don't really use the other features much myself. I don't take a lot of notes when I'm reading a book. I like to just enjoy it and make notes after the fact.
If I forget to start my timer because I'm too eager to get reading I can add a reading session after the fact.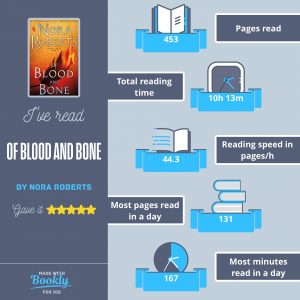 Once a book is finished I can look at all sorts of fun stats for that particular book. I am a numbers nerd so these appeal to me greatly! Bookly even has the ability to save the infographic normally (the screenshot length) or in a square (pictured) to make for easy sharing on social media.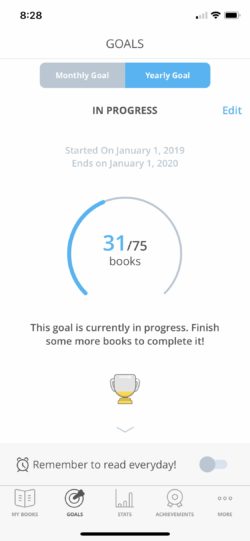 Bookly even lets me set goals. I have two going right now. This month I want to read 2000 pages. Thanks to The Reckoning by John Grisham (hello reading slump!) it doesn't look like I'm going to make that this month. I also have a reading goal for a set number of books in a year. This will most likely always match my GoodReads reading goal.
I also really like the statistics that I can get from Bookly. It tells me the amount of time I've read, the amount of pages, my average reading speed, days of a streak, and a lot more. Even better it can divide it up over all time or by year. It's kind of astonishing to see those numbers and can be a real mood booster!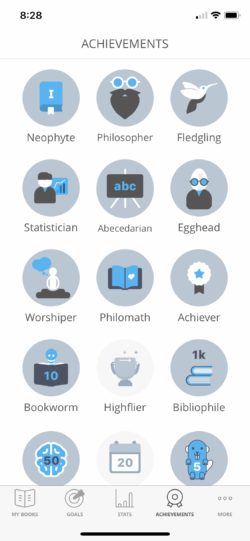 And last but not least there are achievements to be unlocked. I still have a few to unlock yet and they've added some along the way so who knows when we'll have more achievements to unlock.
I really do enjoy the Bookly app. Trust that I wouldn't have done a whole post about it if I didn't think it was useful! It looks like you can download the app for free and give it a try. I know that when I upgraded to the paid plans I was able to get rid of ads and have an unlimited collection. At least you can try it before you decide if you should buy it!
Let me know below if you use Bookly and what you think about it!