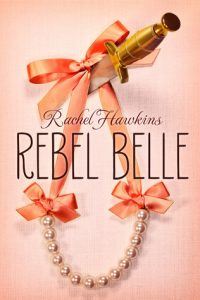 Rebel Belle by Rachel Hawkins
Also by this author: Hex Hall, Demonglass
Also in this series: Miss Mayhem, Lady Renegades
Published by Putnam Juvenile
Genres: Paranormal, Young Adult
Format: Hardcover
Add to: Goodreads

Harper Price, peerless Southern belle, was born ready for a Homecoming tiara. But after a strange run-in at the dance imbues her with incredible abilities, Harper's destiny takes a turn for the seriously weird. She becomes a Paladin, one of an ancient line of guardians with agility, super strength and lethal fighting instincts.

Just when life can't get any more disastrously crazy, Harper finds out who she's charged to protect: David Stark, school reporter, subject of a mysterious prophecy and possibly Harper's least favorite person. But things get complicated when Harper starts falling for him--and discovers that David's own fate could very well be to destroy Earth.

With snappy banter, cotillion dresses, non-stop action and a touch of magic, this new young adult series from bestseller Rachel Hawkins is going to make y'all beg for more.
You ever just read all of those heavy YA fantasy/paranormal books and think geez this was just too much! Well if you are having that issue, like I have been, then this is the book for you.
I really loved that this story was short but really packed a punch with the characters and magic system involved. I have been reading so many newer and upcoming YA fantasy books that are just trying too hard and they are all well over 500 pages long. I work full time and go to graduate school full time, I do not have time for every book in this genre to be that long.
From the start of this book I connected with Harper. She is smart, organized and has a list of goals a mile long. I really loved this because I feel like I am Harper. I strive to do my best in school and I work hard to achieve all of my goals, knowing that just like Harper I sometimes take on too much. In addition to Harper I just loved David because right from the start he pushed back and Harper. I love romance between two people who challenge each other, push back and speak up and this is what the two do together on the page. It was magic I tell you Magic!
Speaking of magic, the lore and magic involved in this book was easy to understand and just seemed to fit the story perfectly. It was not overdone or overexplained and for that I'm very grateful.
Overall, I do not want to give everything away, especially since there are two more books to the series but I would say if you want a fantasy light book with a great romance and some cool magic then this is the book for you. I highly recommend it.