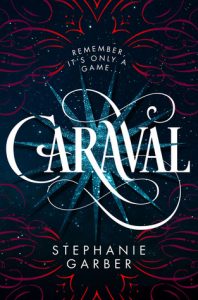 Caraval by Stephanie Garber
Also by this author: Legendary, Finale
Series: Caraval #1
Also in this series: Legendary, Finale
Published by Flatiron Books
Genres: Fantasy, Young Adult
Format: Hardcover
Add to: Goodreads

Remember, it's only a game…

Scarlett Dragna has never left the tiny island where she and her sister, Tella, live with their powerful, and cruel, father. Now Scarlett's father has arranged a marriage for her, and Scarlett thinks her dreams of seeing Caraval—the faraway, once-a-year performance where the audience participates in the show—are over.

But this year, Scarlett's long-dreamt-of invitation finally arrives. With the help of a mysterious sailor, Tella whisks Scarlett away to the show. Only, as soon as they arrive, Tella is kidnapped by Caraval's mastermind organizer, Legend. It turns out that this season's Caraval revolves around Tella, and whoever finds her first is the winner.

Scarlett has been told that everything that happens during Caraval is only an elaborate performance. Nevertheless she becomes enmeshed in a game of love, heartbreak, and magic. And whether Caraval is real or not, Scarlett must find Tella before the five nights of the game are over or a dangerous domino effect of consequences will be set off, and her beloved sister will disappear forever.

Welcome, welcome to Caraval…beware of getting swept too far away.
So many people in the book community rave about Caraval and there is already a lot of excitement for the third book to come out soon. I decided on my longer drive to my parents house to start listening to the audiobook for this story.
The beginning of the book starts of a little slow with not much going on other than introductions to who everyone is and what exactly Caraval is. I feel the story really picks up pace when sisters Scarlett and Tella actually go to Caraval! Then the story becomes this magical world that you are speed reading, or listen to at a faster speed, just so you can know more about it. I have to say the world of Caraval is full of lies, magic, the game, and a bit of romance. I really loved reading about how Scarlett was trying to adjust to this new world that she never really wanted to be in because of fears about her life back home. She and her sister have been abused by their father for so long that Scarlett has fears about what happens if they are gone for too long.
The thing I love the most about the story or the world was watching Scarlett grow over time. I felt that her character growth was the real magic to this story. I loved how she blossomed and turned into the woman we know more about at the end of the story. Secondary to her character growth I think the magic of the story lies in just that, the magic. The world is very special and I loved watching how dark the magic or how dark the characters around Scarlett could become while playing what is suppose to just be a game. As the reader you know there is a whole lot more and many secrets to uncover. It is a joy to discover things and Scarlett sees them.
Overall, I do not want to say too much more about the story because there are so many scenes, secrets, and lies you just must see for yourself. I really highly enjoyed this book. The only part I was not completely thrilled with was the very end of the book. I felt that some story choices were made that made it seem like the story was going in a different direction in the next book. I am excited to continue but the ending did let me down a little bit.