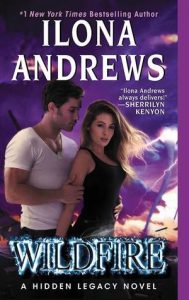 Wildfire by Ilona Andrews
Also by this author: Burn for Me, White Hot
Series: Hidden Legacy #3
Also in this series: Burn for Me, White Hot
Published by Avon
Genres: Urban Fantasy
Format: Paperback
Add to: Goodreads

Just when Nevada Baylor has finally come to accept the depths of her magical powers, she also realizes she's fallen in love. Connor "Mad" Rogan is in many ways her equal when it comes to magic, but she's completely out of her elements when it comes to her feelings for him. To make matters more complicated, an old flame comes back into Rogan's life…

Rogan knows there's nothing between him and his ex-fiance, Rynda Sherwood. But as Nevada begins to learn more about her past, her power, and her potential future, he knows she will be faced with choices she never dreamed of and the promise of a life spent without him.

As Nevada and Rogan race to discover the whereabouts of Rynda's kidnapped husband and are forced to confront Nevada's grandmother, who may or may not have evil motives, these two people must decide if they can trust in each other or allow everything to go up in smoke.
When this book first came out I was all ready to dive into the story… Then I heard from many people that the book left off with a lot of unfinished business and many were upset. I decided to put off reading this book but then the good news came that the series would continue with a spin-off! It seemed now everyone was waiting to hear what this spin-off would be about and so I waited until the novella bridging the two series was released in order to read this one.
I have to say that I just love everything that Ilona Andrews writes. If their name is on it then I own it. I love not only their characters but also the worlds and magic systems they come up with. It is always the right blend of magic, myth, fighting, war, and sexual tension.
This book brought about a great big battle which I really enjoyed reading about but it didn't really stand out to me in the way the first two books did. There was a lot of family political drama in this one and I just felt that it took away screen time from Nevada and Mad Rogan. I wish they had more moments together and I didn't like that everyone in this book kept questioning the relationship between them. It felt like Nevada was constantly being put down as a weaker female in this book because she is new to her magic and with a man who has been deemed crazy in their circles. I do believe Nevada to be a strong person and while these issues did not bring her spirits down they did bring mine down. No woman should be judged for being with a certain man, as long as he treats her well and they love each other then it is no one else's business.
Overall, I did like the great big magical battle that was taking place during this book. I did like how Nevada came more into her magic and her own decisions. I just wish there had been more time for the couple to be together and I wish that all drama and hate about Nevada's relationship was minimized.