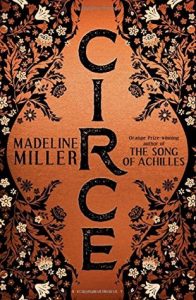 Circe by Madeline Miller
Published by Bloomsbury
Genres: Adult
Format: Audiobook
Add to: Goodreads

In the house of Helios, god of the sun and mightiest of the Titans, a daughter is born. But Circe has neither the look nor the voice of divinity, and is scorned and rejected by her kin. Increasingly isolated, she turns to mortals for companionship, leading her to discover a power forbidden to the gods: witchcraft.

When love drives Circe to cast a dark spell, wrathful Zeus banishes her to the remote island of Aiaia. There she learns to harness her occult craft, drawing strength from nature. But she will not always be alone; many are destined to pass through Circe's place of exile, entwining their fates with hers. The messenger god, Hermes. The craftsman, Daedalus. A ship bearing a golden fleece. And wily Odysseus, on his epic voyage home.

There is danger for a solitary woman in this world, and Circe's independence draws the wrath of men and gods alike. To protect what she holds dear, Circe must decide whether she belongs with the deities she is born from, or the mortals she has come to love.
With everyone raving about Miller's other novel, The Song of Achilles, I was so excited for this one. It sounded like the ultimate feminist story with mythology infused into it with Circe being a daughter of a Titan.
The beginning of the story starts slowly. It shows us how Circe is the daughter that no one wants, she doesn't have anything special to offer the world and her siblings get all of the praise and fortune. We see her be passed up by everyone around her, especially men. It is a sad time in her life and it isn't until she steps up for herself and gets exiled that she really starts to figure out who she really is.
Once she is exiled I feel Circe really comes into her own. She gets to find the magic that she is good at and starts to decide how she wants things to be. I feel these are the best chapters but also the ones that are most all over the place. Circe lives a long time so each chapter is just highlighting events in her life. We just watch one chapter to the next as all the people she has interacted with age because they are mortal. Everyone is here and then gone by the next chapter. No one really stays in her life and I feel like we are just getting little flashes into her long journey. I feel like there was no connections or cohesion during this part of the story. We just see random decades of her life. Don't bother getting attached to anything because in a few pages it will be gone.
During the last third of the book she meets one mortal who gets her pregnant before he leaves. Her whole life and story then becomes about saving this baby from the Greek Gods. It also isn't that interesting.
Overall, I think the only reason I made it through this book was the audiobook. It made it feel like the female narrator was Circe and she was telling me about pieces of her life. I just felt that this book really had no purpose. The only time I really cared about Circe was when she was standing up for her son and even though parts were rather boring. I also saw the way it would end so it wasn't a big surprise to me. Overall this was just average, nothing special. I personally would lean to the side of not reading this and instead just reading a short webpage about Circe.
Audiobook Experience:
I really believe the only thing that got me through this was the audio. It was great to her hear Circe's story instead of just reading it. Plus with all of the names to keep track of it was better to hear them spoken the proper way. It feels like the narrator is Circe and she has sat down to tell you her story. I recommend the audio if you are going to read this one.