Since my formative years were pre-Internet and pre-Kindles obtaining books wasn't nearly as easy. I also have a streak of perfectionism. As a child one of my biggest goals was to read every book in the Baby-Sitters Club, Sweet Valley High, Goosebumps, and Fear Street series. The Baby-Sitters Club is its own mega-merchandising brand with all the books in the main series, the super series, the mystery series, and the mystery super series. Let's not forget the biographies and the entire Little Sisters line. I won't be reading Karen's books. The sad thing is I may have missed a few off shoots there.
All of that background info to say I'm going to try to read the BSC series in its entirety. I'm going to try to read them in chronological order. This massive series starts with Kristy's Great Idea by Ann M. Martin. This book started it all.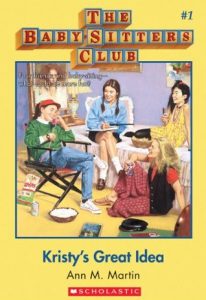 Kristy's Great Idea by Ann M. Martin
Also by this author: Baby-Sitters on Board!, Mary Anne's Bad-Luck Mystery
Series: The Baby-Sitters Club #1
Also in this series: Baby-Sitters on Board!, Mary Anne's Bad-Luck Mystery
Published by Scholastic Inc
Genres: Children's Books, Contemporary
Pages: 180
Format: eBook
Read in: September 2018
Reading Challenges: 2018 GoodReads
Source: Personal Collection
Add to: Goodreads

When Kristy Thomas has the great idea to form a baby-sitters club--a chance to earn money and spend time with her friends, all while doing something they each love to do--she has no idea how much the club will change everything.

Crank calls, uncontrollable toddlers, wild pets, untruthful clients . . . running a business is hard work! Kristy and her co-founders, Mary Anne, Claudia, and Stacey, are sure they can handle anything. But only if they stick together . . .

The best friends you'll ever have--with classic BSC covers and a letter from Ann M. Martin! - via GoodReads
I wanted so much to be part of this group as a child. I 100% identified with Mary Anne. I was super shy and had an overly strict father. In Kristy's Great Idea by the Baby-Sitters Club is formed and sees success. Divorce and the idea of blended families is discussed and explained. Mid-1980s divorce was becoming more normalized and brought out all manner of topic discussions for children and young adults.
Once book down in the series. Roughly 697 to go. Oy vey! What am I doing?



Claudia and the Phantom Phone Calls by Ann M. Martin, I have to admit as an adult, this one made me giggle. A. Lot. I guess that's part of the risk in reading children's books as an adult. Claudia was just a *bit* overly tragic about her crush.
The girls definitely showed their age with extrapolating where a jewel thief would be in their suburban home town. However coming up with a game plan showed a level of maturity too. To be honest, I would have expected the worst and not had any game plan myself.
I really enjoyed a more detailed view of Claudia and her home life. Obviously Mimi is my favorite. I am kind of surprised with how little Claudia's parents were in this book. Perhaps we'll see none of them in Claudia's next book.
Reading this book contributed to these challenges: