I received this book for free from Simon & Schuster in exchange for an honest review. This does not affect my opinion of the book or the content of my review.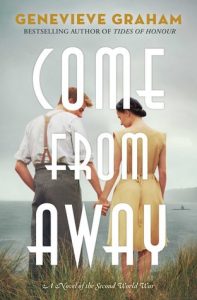 Come from Away by Genevieve Graham
Also by this author: Somewhere to Dream, The Forgotten Home Child
Published by Simon & Schuster
Genres: Adult, Historical, Historical Romance, Romance
Pages: 352
Format: eARC
Read in: April 2018
Reading Challenges: 2018 GoodReads
Source: Simon & Schuster
Add to: Goodreads

In the fall of 1939, Grace Baker's three brothers, sharp and proud in their uniforms, board Canadian ships headed for a faraway war. Grace stays behind, tending to the homefront and the general store that helps keep her small Nova Scotian community running. The war, everyone says, will be over before it starts. But three years later, the fighting rages on and rumours swirl about "wolf packs" of German U-Boats lurking in the deep waters along the shores of East Jeddore, a stone's throw from Grace's window. As the harsh realities of war come closer to home, Grace buries herself in her work at the store.

Then, one day, a handsome stranger ventures into the store. He claims to be a trapper come from away, and as Grace gets to know him, she becomes enamoured by his gentle smile and thoughtful ways. But after a several weeks, she discovers that Rudi, her mysterious visitor, is not the lonely outsider he appears to be, but someone else entirely—someone not to be trusted. When a shocking truth about her family forces Grace to question everything she has so strongly believed, she realizes that she and Rudi have more in common than she had thought. And if Grace is to have a chance at love, she must not only choose a side, but take a stand. - via GoodReads
I was approached by Genevieve Graham to be one of the bloggers based in the US market to review her newest release and first time available in the US market.
Come from Away by Genevieve Graham was a fantastic read. I love history but admit to having a pretty narrow view of it. Mostly through the lens of the US. For instance I had no idea German UBoats had made it to Canadian shores. In all WWII related things I've ever seen online this somehow never managed to show up.
Come from Away tackles a big subject: prejudice. It's something I've been thinking about a lot lately. No matter how much instinct tells you to, you just can't put large groups of people under one label. Germany's role in WWII was unmeasurably awful; therefore, Germans must be awful. German soldiers? Even worse. Turns out even though one man (or even a group of people) represent a country, in no way does that mean one man speaks the opinions of every single person he represents. That remains true to this day. It was ignorant of me to ever think otherwise.
Come from Away brought me out of a huge reading slump. I couldn't put it down. It had history, a good romance, and the book's pacing kept me wondering what would happen next. I really truly worried how things were going to turn out for Rudi and Grace. There was so much that should have kept them apart. I really enjoyed the family as well.
Once I closed Come From Away I needed to make sure I had the companion novel Tides of Honour (this one is Grace's parents' story). Thankfully I do! I've been looking into Graham's backlist and I'm excited to see I have some options!
Reading this book contributed to these challenges: