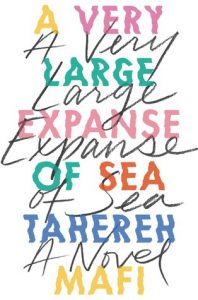 A Very Large Expanse of Sea by Tahereh Mafi
Also by this author: Restore Me
Published by HarperTeen
Genres: Contemporary, Young Adult
Format: ARC
Add to: Goodreads

It's 2002, a year after 9/11. It's an extremely turbulent time politically, but especially so for someone like Shirin, a sixteen-year-old Muslim girl who's tired of being stereotyped.

Shirin is never surprised by how horrible people can be. She's tired of the rude stares, the degrading comments—even the physical violence—she endures as a result of her race, her religion, and the hijab she wears every day. So she's built up protective walls and refuses to let anyone close enough to hurt her. Instead, she drowns her frustrations in music and spends her afternoons break-dancing with her brother.

But then she meets Ocean James. He's the first person in forever who really seems to want to get to know Shirin. It terrifies her—they seem to come from two irreconcilable worlds—and Shirin has had her guard up for so long that she's not sure she'll ever be able to let it down.
This book is about a very serious human error right after the events of 9/11. The idea that all people who were of a certain skin color or culture were now the enemy and that all could be treated as such. While the message in this book is important I fell in love with it for different reasons.
In this book we meet our main character, Shirin, who is still in high school. She makes herself out to be a loner at school because her family moves so often. She only really trusts her brother and believes the rest of the school just would not understand her way of life and the choices she makes with her culture.
Things change for her slightly when her brother starts a break dance crew and wants her to be part of it. For the first time she has a group to belong to and she forms bonds with the guys on the crew. She also starts to see what the world has to offer for her when she meets Ocean. He actually wants to look at her and talk with her and she finds it hard to believe.
I personally love this book because I love the journey that Shirin goes on. She is a person who is tough to get to know, fierce, bratty and vulnerable. There were so many times when reading this novel that I found myself crying because I felt the same way in high school. I was the girl who had friends but was hard to get to know. I often found it easier to wall myself away from people emotionally so there was some distance. I found pieces of myself in Shirin and it made the book so emotional for me personally. This may not be the book for everyone and maybe others will like it but not connect. Each book out there in the world is special and this one broke me because I had to learn to open up just like Shirin. I'm not there yet but I haven't seen myself perfectly in a character ever. So thanks to Mafi for making an Alexa in the form of Shirin.