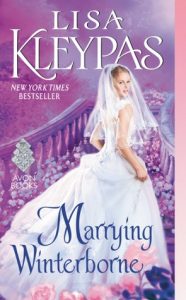 Marrying Winterborne by Lisa Kleypas
Also by this author: Scandal in Spring
Series: The Ravenels #2
Also in this series: Cold-Hearted Rake
Published by Avon
Genres: Adult, Historical Romance
Format: eBook
Add to: Goodreads

A ruthless tycoon

Savage ambition has brought common-born Rhys Winterborne vast wealth and success. In business and beyond, Rhys gets exactly what he wants. And from the moment he meets the shy, aristocratic Lady Helen Ravenel, he is determined to possess her. If he must take her virtue to ensure she marries him, so much the better…

A sheltered beauty

Helen has had little contact with the glittering, cynical world of London society. Yet Rhys's determined seduction awakens an intense mutual passion. Helen's gentle upbringing belies a stubborn conviction that only she can tame her unruly husband. As Rhys's enemies conspire against them, Helen must trust him with her darkest secret. The risks are unthinkable… the reward, a lifetime of incomparable bliss. And it all begins with…

Marrying Mr. Winterborne
I love Kleypas' historical romance books! I was so excited to dive into The Ravenels last year or the year before when I read the first book. Unfortunately the first book was a bit of a let down and so I bought Marrying Winterborne but put it off for so long because I did not want to feel let down again by a favorite author of mine. I am now kicking myself for not reading this sooner.
At the start of this book I was scared because I did not know if I was going to like Winterborne as our leading male love interest. I should not have been worried because I really thoroughly enjoyed him. I felt that he had a lot to offer as a man who had to trust in himself and build his own department store empire. I felt he was much more attentive to the female lead, Helen, then most men in historical romances are. I loved that he gave her space to grow but also challenged her in certain areas. I also really love how he respected women!
Helen sounded a bit weak in the first novel but I felt she really shined in this one. She came into her own and she had help finding her sexuality and purpose with Winterborne and Dr. Gibson by her side. She really rose above that weak innocent role that I thought she would have. I really loved her inner strength and even how she stood up for what she wanted with her family. She grew as the story grew and I feel that was special to watch her gain a voice.
Overall, I highly enjoyed this one. This one is not my favorite of Kleypas but it certainly wowed me and surprised me after the disappointment that the first book was. I can't wait to dive into the rest of the series now because I need to know what happens with this family next.