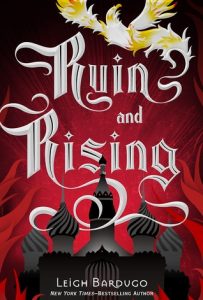 Ruin and Rising by Leigh Bardugo
Also by this author: Six of Crows, Wonder Woman: Warbringer
Series: Grishaverse #3
Also in this series: Shadow and Bone, Siege and Storm
Published by Henry Holt & Co
Genres: Fantasy, Young Adult
Format: Hardcover
Add to: Goodreads

The capital has fallen.

The Darkling rules Ravka from his shadow throne.

Now the nation's fate rests with a broken Sun Summoner, a disgraced tracker, and the shattered remnants of a once-great magical army.

Deep in an ancient network of tunnels and caverns, a weakened Alina must submit to the dubious protection of the Apparat and the zealots who worship her as a Saint. Yet her plans lie elsewhere, with the hunt for the elusive firebird and the hope that an outlaw prince still survives.

Alina will have to forge new alliances and put aside old rivalries as she and Mal race to find the last of Morozova's amplifiers. But as she begins to unravel the Darkling's secrets, she reveals a past that will forever alter her understanding of the bond they share and the power she wields. The firebird is the one thing that stands between Ravka and destruction—and claiming it could cost Alina the very future she's fighting for.
After really loving the second book in this series I needed to know how it would all end.
I have to say I feel this book suffers a little at times because we are on another fantasy journey and this one feels slower in pacing. Most of the time a final book in a series will be pretty fast because of all the things that have to happen for the ending to be reached. I felt a little tired of the adventure to find all of the three pieces Alina needs in order to battle at the end. The characters never even really know if having all of the pieces will help them in the end or not. So I was tired of this aspect of the story.
I also felt that the interactions with the Darkling were few and far between. I felt I was searching for those great interactions in this book and they were missing. There were other characters to take the place but it just felt like the crew was a bit defeated and that they were tired. If they feel tired it is a little hard for the reader to be overjoyed about their ending.
Overall, I did still enjoy this book because I do like the characters and I did like the moments of their struggle and seeing how they would come out the other side. I felt the ending was an ending I could be happy with and I'm excited to see how the stories of this world will continue. I still highly recommend this series even though the last book was my least favorite.