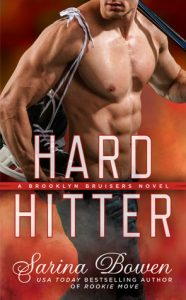 Hard Hitter by Sarina Bowen
Also by this author: Rookie Move
Series: Brooklyn Bruisers #2
Also in this series: Rookie Move
Published by Berkley
Genres: Adult, Contemporary Romance
Format: eBook
Add to: Goodreads

He's a fighter in the rink, but he's about to learn that playing nice can help you score...

As team captain and enforcer, Patrick O'Doul puts the bruise in the Brooklyn Bruisers. But after years of hard hits, O'Doul is feeling the burn, both physically and mentally. He conceals his pain from his coach and trainers, but when his chronic hip injury becomes too obvious to ignore, they send him for sessions with the team's massage therapist.

After breaking up with her long-term boyfriend, Ari Bettini is in need of peace of mind. For now, she's decided to focus on her work: rehabilitating the Bruisers' MVP. O'Doul is easy on the eyes, but his reaction to her touch is ice cold. Ari is determined to help O'Doul heal, but as the tension between them turns red hot, they both learn that a little TLC does the body good...
I really loved the books that I read by Sarina Bowen last year so I really wanted to continue with her writing in 2018.
After I really loved the first book in this series I knew this would be the Bowen book that I continued on with. I just loved reading about hockey players instead of any other sport because the others all feel over done in romance. I just love how it feels like you are there watching the hockey games and rooting for this team that you love so much.
Along with the sporting events that take place I also think that Bowen does a great job making you like all of her very individual characters, they all never suffer from feeling the same and each guy and girl in the story has their own flair and I love that. In this one we get to see the captain, Patrick fall for the team yoga instructor, Ari. I enjoyed how they didn't really care for each other from the start of the story. Ari has some personal things going on in her life and she isn't looking to fall for a guy on the team. Patrick is even more stubborn than Ari but he melts in just the right places when Ari is in danger from an ex-boyfriend.
I highly enjoyed these two together and I liked to see how their romance would unfold. I especially have to say that I enjoyed the steamy scenes in this one because they felt different than the previous novel and fresh in general. I read a lot of romance books so when I say something feels fresh I mean it and I enjoy seeing something new, or new to me I suppose. The romance did get a little bit boring around the late middle to early end so that is why I was not completely taken with this one like I was with the first book.
Overall, I highly recommend this series and any books by Bowen in general. She is certainly one to watch for and there are many of her backlist that I have not even had the pleasure of reading yet.