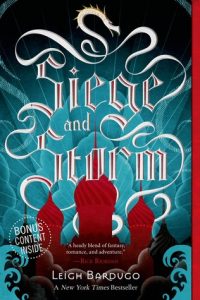 Siege and Storm by Leigh Bardugo
Also by this author: Six of Crows, Wonder Woman: Warbringer
Also in this series: Shadow and Bone, Ruin and Rising
Published by Henry Holt & Co
Genres: Fantasy, Young Adult
Format: Paperback
Add to: Goodreads

The second book in The Grisha Trilogy by the #1 New York Times bestselling author of Six of Crows.

Darkness never dies.

Hunted across the True Sea, haunted by the lives she took on the Fold, Alina must try to make a life with Mal in an unfamiliar land, all while keeping her identity as the Sun Summoner a secret. But she can't outrun her past or her destiny for long.

The Darkling has emerged from the Shadow Fold with a terrifying new power and a dangerous plan that will test the very boundaries of the natural world. With the help of a notorious privateer, Alina returns to the country she abandoned, determined to fight the forces gathering against Ravka. But as her power grows, Alina slips deeper into the Darkling's game of forbidden magic, and farther away from Mal. Somehow, she will have to choose between her country, her power, and the love she always thought would guide her--or risk losing everything to the oncoming storm.

Siege and Storm is the second book in The Grisha Trilogy by Leigh Bardugo. Book one, Shadow and Bone, is a New York Times bestseller, and book 3, Ruin and Rising, is an Amazon Best Book of the Year and a USA Today bestseller. This title has Common Core connections, and this deluxe paperback edition features bonus materials like an interview with Leigh Bardugo, a bonus short story, "The Tailor," and more.
After really enjoying my reread of the first book, Shadow and Bone, I could not wait to dive right into this one.
I do have to say that this story starts off slower because this is more of a journey book. There are long passages where Alina is just traveling. This is usually a book that I would not like that much because of these long forest/journey passages. However, I was really in love with this one for the character interactions.
This book is all about gearing up for the final installment but there are plenty of big scenes and great interactions that just suck you in. I still love the Darkling so all of the scenes that involve him are my favorite. I just love how his interaction with Alina always goes to this somewhat romantic/manipulating/dark place. I love the conversations between the two and I feel that every time Alina has to talk with him that she learns something new about her world and more importantly, herself.
Overall, I do not want to spoil anything since this is the middle of the series. I will say this is my favorite book in this series, (I've already finished the last book, Ruin and Rising) and that you need to go on this adventure. There are so many physiologically thrilling moments in this one that just pull you deeper into the world. There is adventure, quests and new characters and landscapes to keep you entertained. This story never lags or suffers from middle book syndrome. It truly is a masterpiece and one of my favorites of the year. Go read this series if you have not, you will not regret it.