I received this book for free from Author in exchange for an honest review. This does not affect my opinion of the book or the content of my review.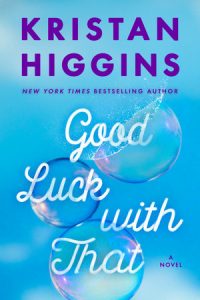 Good Luck with That by Kristan Higgins
Also by this author: The Next Best Thing, The Best Man
Published by Berkley
Genres: Adult, Contemporary
Pages: 480
Format: ARC
Read in: July 2018
Reading Challenges: 2018 GoodReads
Source: Author
Add to: Goodreads

Emerson, Georgia, and Marley have been best friends ever since they met at a weight-loss camp as teens. When Emerson tragically passes away, she leaves one final wish for her best friends: to conquer the fears they still carry as adults.

For each of them, that means something different. For Marley, it's coming to terms with the survivor's guilt she's carried around since her twin sister's death, which has left her blind to the real chance for romance in her life. For Georgia, it's about learning to stop trying to live up to her mother's and brother's ridiculous standards, and learning to accept the love her ex-husband has tried to give her.

But as Marley and Georgia grow stronger, the real meaning of Emerson's dying wish becomes truly clear: more than anything, she wanted her friends to love themselves. - via GoodReads
I don't even know where to start my review of Good Luck with That by Kristan Higgins. If you've been a follower of Once Upon a Chapter you'll know that I adore Kristan Higgins and everything I've ever read of her's. Good Luck with That takes the cake. It is on my top 5 ever (forget just 2018) and may very well become a yearly re-read.
Good Luck with That confronts a major fear for most people: body image; primarily with obesity. Higgins touches on all types of body image issues though. As much as I was anticipating this book, I was also kind of scared. I don't think I would have trusted any other woman to take me on this journey. At my highest I've weighed 310 pounds. I read things in this book that I've experienced. I want to be crystal clear I felt like I was reading about myself. I never once felt fat-shamed. I felt like I was talking to someone who got it.
Being brutally honest here I could have been Emerson. There comes a point where you have to decide if the food is worth what you are putting your body through physically. I was lucky enough that I could step back from that and I had family who supported me. I identify with Marley the most as far as body type/size. I am a bigger woman with minimal health issues. I also love to cook. Probably not enough to make it my job though.
What I need people to understand is that Good Luck with That is about learning to love the person you are and not the person you hope you may be someday. I get teary-eyed reading some of these reviews because there are SO many of us who need this book. The dedication of this book: "This one is for all of us who've cried when looking in the mirror. Here's to never doing that again.". That's a powerful statement. No matter our shape or size I think we've all had one of those moments, yes?
Reading this book was tough.I stuck with it because I trusted Higgins to pull me through. She absolutely did and I'll be all the more a loyal fan because this book was an experience. I can only hope you will be brave enough to pick up this book. My best advice: be brave. It was absolutely worth it.
Reading this book contributed to these challenges: