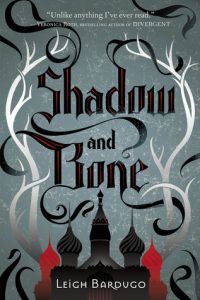 Shadow and Bone by Leigh Bardugo
Also by this author: Six of Crows, Wonder Woman: Warbringer
Series: Grishaverse #1
Also in this series: Siege and Storm, Ruin and Rising
Published by Henry Holt & Co
Genres: Fantasy, Young Adult
Format: Paperback
Add to: Goodreads

Surrounded by enemies, the once-great nation of Ravka has been torn in two by the Shadow Fold, a swath of near impenetrable darkness crawling with monsters who feast on human flesh. Now its fate may rest on the shoulders of one lonely refugee.

Alina Starkov has never been good at anything. But when her regiment is attacked on the Fold and her best friend is brutally injured, Alina reveals a dormant power that saves his life—a power that could be the key to setting her war-ravaged country free. Wrenched from everything she knows, Alina is whisked away to the royal court to be trained as a member of the Grisha, the magical elite led by the mysterious Darkling.

Yet nothing in this lavish world is what it seems. With darkness looming and an entire kingdom depending on her untamed power, Alina will have to confront the secrets of the Grisha . . . and the secrets of her heart.
I did read and review this book back in August 2014 but I never went on to read the rest of the series so I decided to re-read it in order to understand the world again so I could read the rest of the series. Bardugo really impressed me in 2017 with Six of Crows and Wonder Woman and so I needed to go back to give her older books a try again. For some reason I remember not really liking Shadow and Bone that much but even my old review rates the book at 4.5 stars which I feel is a great rating and I'm giving it the same rating now so I don't know why I thought I didn't like it. Silly Me.
My older review expresses how much I really loved the world that Bardugo created because I liked how vast everything was and all of the travel our character did in the world. I feel that the world is still vast but that wasn't why I liked what she created so much. Maybe because I work in medicine and spent my time in college studying the human body but this time around I really loved the Grisha's powers and I was so interested in the powers they could have over the body.
I also loved that our main girl, Alina, had an unusual power and I really liked reading about her trying to master that power and grow from the girl she was at the start of the book. I think that over the course of this book she grows so much for it only being one book. I like how she had to find ways to unleash her power and also to control it. I love how her emotional state changes so much over the course of this novel and it just adds so much richness to the story to have a character that feels so real.
Add in Darkling and I'm just laying on the floor in a puddle of goo. I think I remember liking the Darkling the first time I read this book but I think I loved him so much more this time around. He is such a multidimensional character that I loved him and his depth. I though some of the lines he says in the book are just pure gold and I loved how he pushed Alina to realize what she holds inside of herself. He pushes her for her power but he also pushes her emotionally and I loved it. I think he is necessary to bring out the darkness of Alina and push her past what she is comfortable doing. I just love him in this and I can't wait to see more of him.
I have to say the person I like the least in this was Mal because he was just the backup good boy for me. I think he really loves Alina and I enjoy how he takes care of her but I feel he still needs to explain himself to me. He seems a little quiet and withdrawn even when he is showing love to Alina. I think he is her rock in the storm of all this unknown but I want to see more out of him in the rest of the series.
Overall, I really loved this story because it has a great magic system, a vast world, and characters that push each other to the edge. I can't wait to see where this goes.
I want Darkling to be my villain, just saying.