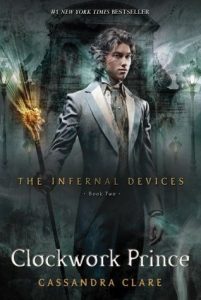 Clockwork Prince by Cassandra Clare
Also by this author: Clockwork Angel, City of Lost Souls
Series: The Infernal Devices #2
Also in this series: Clockwork Angel, Clockwork Princess
Published by Margaret K. McElderry Books
Genres: Historical, Paranormal, Young Adult
Format: Paperback
Add to: Goodreads

True love is shrouded in secrets and lies in the enchanting second book in the #1 New York Times bestselling Infernal Devices Trilogy, prequel to the internationally bestselling Mortal Instruments series.

In the magical underworld of Victorian London, Tessa Gray has found safety with the Shadowhunters. But that safety proves fleeting when it becomes clear that the mysterious Magister will stop at nothing to use Tessa's powers for his own dark ends.

With the help of the handsome, tortured Will and the devoted Jem, Tessa discovers that the Magister's war on the Shadowhunters is deeply personal and fueled by revenge. To unravel the secrets of the past, the trio journeys from mist-shrouded Yorkshire to a manor house that holds untold horrors. When they encounter a clockwork demon bearing a warning for Will, they realize that the Magister knows their every move—and that one of their own has betrayed them.

Tessa is drawn more and more to Jem, though her longing for Will continues to unsettle her. But something is changing in Will. Could finding the Magister free Will from his secrets and give Tessa answers about who she really is? As their search leads to deadly peril, Tessa learns that secrets and lies can corrupt even the purest heart.
I could not wait to read this one after I really enjoyed the first one. The first one is probably my favorite Clare book that I've read so I was ready for the continuation of the story.
I feel that the start of this book is a bit slow. I still really enjoyed the setting of this world and I wanted to know what on Earth Will was up to. I really enjoy the addition of more Magnus in the beginning of this story but the story really slows down when the group has to go to the countryside in order to gather clues to find where the bad guy is. I felt that everyone was just sort of sitting on trains and in carriages without a lot of meaningful interaction or plot development.
I think the story picks up about 200 pages in when the characters start to figure out more of the overall plot of the story and they start to get closer to each other. I felt that the first book really advanced well in plot and in this book I felt that the plot slowed down a little so we could connect better with the characters. I really love character development so I really liked this section of the book. I felt that Tessa really grew as a character. She is still figuring out who she is but in the mean time she wants to train to fight and to start assessing her true feelings about being a part of this new and crazy world. I also really loved the choices that Jem had to make in this story because I felt his story arc was really moving forward. I enjoyed several of his interactions with Tessa and the separate ones with Will. As much as I enjoyed Jem in this story I felt that Clare made me a little sick of Will in this book. We are suppose to feel very sympathetic for him and everything we learn about him in this book but I could see the twists with Will coming from a mile away. I also got really frustrated with the fact that while trying to develop Will that Clare decided to just point out over and over again how pretty he is. I felt that this was just like what we went through with Jace and I was a bit sad that Clare had this set back. Sure boys can be pretty but I think there is a lot more to Will and Jem then how they look. I felt that Will was cheapened throughout this book. It wasn't until the end of the book that I felt Clare let Will shine a little more again without just wasting time telling us how pretty the guy is.
Overall, I'm not going to give away the plot lines in this story but I feel that we made a lot of progress with our characters and their feelings but we lost a little of the overall plot of this story. I really enjoyed this one for those emotional connections and moments. Those moments were so special to me but a few emotional connections do not make a 500 page book if that makes sense. I hope that in the last book I get a little more of a blend between having emotion and plot.