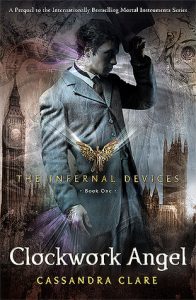 Clockwork Angel by Cassandra Clare
Also by this author: Clockwork Prince, City of Lost Souls
Series: The Infernal Devices #1
Also in this series: Clockwork Prince, Clockwork Princess
Published by Margaret K. McElderry Books
Genres: Historical, Paranormal, Young Adult
Format: Hardcover
Add to: Goodreads

In a time when Shadowhunters are barely winning the fight against the forces of darkness, one battle will change the course of history forever. Welcome to the Infernal Devices trilogy, a stunning and dangerous prequel to the New York Times bestselling Mortal Instruments series.

The year is 1878. Tessa Gray descends into London's dark supernatural underworld in search of her missing brother. She soon discovers that her only allies are the demon-slaying Shadowhunters—including Will and Jem, the mysterious boys she is attracted to. Soon they find themselves up against the Pandemonium Club, a secret organization of vampires, demons, warlocks, and humans. Equipped with a magical army of unstoppable clockwork creatures, the Club is out to rule the British Empire, and only Tessa and her allies can stop them...
It has been a long time since I read a Clare book. This is because I have read the first four books of The Mortal Instruments series and I still do not understand the hype! I think that the secondary characters in that series are great but I really do not like Jace and Clary and since they are the main characters it can make it difficult to enjoy that series. A lot of people have said that people who struggle with TMI series should read The Infernal Devices series.
From the start of this series I do have to say that it feel a little different. I liked that we were thrown into downtown London of ages ago. I feel that the historical elements in this book really make me like it a lot more. I just love all of the fashion of that time and how gentlemen and ladies were suppose to behave by a set of society rules. I think this adds something that the modern day shadowhunter stories are missing. I feel like this dreary London setting just adds to the story and makes it more interesting.
I have to say whereas with the modern day books I do not like the main characters I'm happy to say that I really like our main three in this story. The cast has just enough secondary characters to make the story interesting but not so many that they overpower you enjoying the main three. Tessa, Will, and Jem are just so magical together in this story. I really like the bond between Will and Jem. Jem helps make it so Will isn't so out of control like how Jace is in the modern day books. I feel Jem adds this nice balance and I really like the contrast between Jem and Will. I feel this adds so much to both of their characters and lets you easily tell them apart. I enjoy how Tessa fits in with them and how she a little standoffish from them at first. I like a girl who doesn't just swoon right away and I like that Tessa has her own agenda in this story.
I liked the characters in this story but I think the plot of this book is actually pretty perfect as well. I think that in the modern day books the story revolves so much around understanding all of the rules to the shadowhunter world and especially all those runes that the plot is a little lost. Plus the plot there felt more basic because they were out for one man and it was just a bunch of family drama. I feel like this story does so much better with the plot because we have unknown and interesting backstories to all three main characters and it drives them all in different ways. We have a mystery and we also have inventions and this steampunk feel here. I just really enjoyed watching the whole cast come together to try to solve things. I also really loved the battle scenes in this book because it really showed what shadowhunters are capable of. Some of my favorite pieces included battles.
Overall, I'm highly impressed with this book. I think some of that has to do with the fact that I just like it so much more than the modern day books. I hope this holds up for the rest of the series.