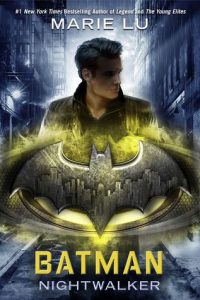 Batman: Nightwalker by Marie Lu
Also by this author: Warcross, Wildcard
Series: DC Icons #2
Published by Random House Children's Books
Genres: Comic, Young Adult
Format: Hardcover
Add to: Goodreads

Before he was Batman, he was Bruce Wayne. A reckless boy willing to break the rules for a girl who may be his worst enemy.

The Nightwalkers are terrorizing Gotham City, and Bruce Wayne is next on their list.

One by one, the city's elites are being executed as their mansions' security systems turn against them, trapping them like prey. Meanwhile, Bruce is turning eighteen and about to inherit his family's fortune, not to mention the keys to Wayne Enterprises and all the tech gadgetry his heart could ever desire. But after a run-in with the police, he's forced to do community service at Arkham Asylum, the infamous prison that holds the city's most brutal criminals.

Madeleine Wallace is a brilliant killer . . . and Bruce's only hope.

In Arkham, Bruce meets Madeleine, a brilliant girl with ties to the Nightwalkers. What is she hiding? And why will she speak only to Bruce? Madeleine is the mystery Bruce must unravel. But is he getting her to divulge her secrets, or is he feeding her the information she needs to bring Gotham City to its knees? Bruce will walk the dark line between trust and betrayal as the Nightwalkers circle closer.
One of my favorite books of last year was Wonder Woman: Warbringer so I wanted to try more of these DC novels to see if I loved these superhero books or not.
I have to say that I really found it hard to get into this one. I really was dying to know what Bruce would be like as a teenager and I felt that this book gave us a really bland look at that. I really wanted to get into the mind of the man and see him when he was younger and more vulnerable. Instead we got a boy who seemed to think that driving expensive cars and taking over police cases was his responsibility. He acted like he could always do something better than the officials who were taking care of the matter. He was arrogant, rich, and full of ideas of grandeur. I was not impressed.
The book isn't even 300 pages so you would think that the storyline would go by super fast but I found the story dragging out and that it took me several days to read. I just didn't really feel anything while Bruce was serving his community service. I also felt like the girl was there just so Bruce could have a love interest like all good Batman movies. I didn't really feel all that much for the girl and I already stated how I wasn't a fan of Bruce so this just sort of flopped for me.
Overall, I guess I was just not impressed with this one. I didn't really feel anything one way or another while reading this. Was it the worst book I've ever read? No, but neither was it the best. I felt this was average and didn't really add anything to Bruce or the Batman character.