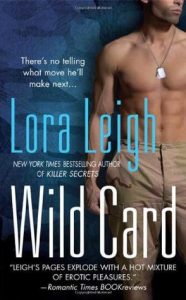 Wild Card by Lora Leigh
Series: Elite Ops #1
Published by St. Martin's Press
Genres: Contemporary Romance, Romantic Suspense
Format: Paperback
Add to: Goodreads

It was supposed to be simple. All Navy SEAL Nathan Malone had to do was rescue three young girls from a Colombia drug cartel, then allow himself to be captured just long enough to draw out a government spy. That was before his mission went disastrously wrong…and before his wife, Bella, was told that Nathan was never coming home.

Bella's mourned her husband's death for three long years. But she has no idea he's still alive. Forced to assume a new identity, the man Nathan was is now dead. If he can get back to his wife, can he keep the secret of who he really is…even as desire threatens to consume them? And as danger threatens to tear Bella from Nathan's arms once more?
I love the main male character of this book. Noah is a favorite of mine and I was so excited to reread this book so I could experience him all over again.
I jumped into reading this book when I was feeling a slump coming on from the book I was reading at the time. I figured a good reread would pull me out before I could fall into that dark hole.
If you love contemporary romances with badass heroes then this is the series for you. Noah was a Navy Seal before a mission gone wrong that left him pumped up with a drug and forever changed. I love this story because I enjoyed who Noah was in the original series that we saw him in. He obviously loved his wife and wanted to never leave her. I love the hard journey that this book takes us on. This romance obviously is strong from the start of the book before Noah ever has the mission go wrong and it will break your heart for you to have to watch him stay away from his wife, his soul, his forever!
I think the strength of this book lies in the characters. You can't help but love not only the main couple of Noah and Bella but all the supporting cast from Noah's family as well. You just feel all of these thick emotions in this book and sometimes the emotional drama of this book just breaks you. Your heart will ache just as bad as Noah and Bella's do for each other. You will also come to love what it means to be part of this family and the lengths that any man will go to in order to protect what is his.
Overall, I have to say I still really love the characters and the emotions of this novel. Noah is still one of my top men from romance because he just screams Alpha and has that dominating, yet loving, personality. I do have to say I wasn't super impressed with the overall storyline about the bad guys they were trying to stop but the key in this book is the rekindling of a love story between two soulmates.