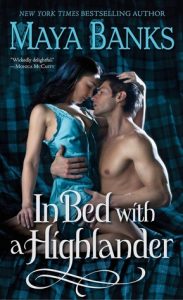 In Bed with a Highlander by Maya Banks
Also by this author: Seduction of a Highland Lass
Also in this series: Seduction of a Highland Lass
Published by Ballantine Books
Genres: Adult, Erotica/Historical, Historical Romance
Format: Paperback
Add to: Goodreads

Maya Banks' beguiling new trilogy features three unforgettable brothers risking everything to save their clan and their legacy—and to surrender their hearts to love.

Ewan McCabe, the eldest, is a warrior determined to vanquish his enemy. Now, with the time ripe for battle, his men are ready and Ewan is poised to take back what is his—until a blue-eyed, raven-haired temptress is thrust upon him. Mairin may be the salvation of Ewan's clan, but for a man who dreams only of revenge, matters of the heart are strange territory to conquer.

The illegitimate daughter of the king, Mairin possesses prized property that has made her a pawn—and wary of love. Her worst fears are realized when she is rescued from peril only to be forced into marriage by her charismatic and commanding savior, Ewan McCabe. But her attraction to her ruggedly powerful new husband makes her crave his surprisingly tender touch; her body comes alive under his sensual mastery. And as war draws near, Mairin's strength, spirit, and passion challenge Ewan to conquer his demons—and embrace a love that means more than revenge and land.
I have read a few contemporary books by Maya Banks before but for some reason I always put off reading her historical books. I decided it was time to change that.
I didn't really know what to expect from a sexy contemporary author doing historical. I worried that what makes historical romance so special in my mind would be ruined by an over abundance of sexy times. Well I didn't need to worry about that because I believe that Banks handles historical better than she does contemporary.
This story does start a little rough in my mind. I'm not a huge fan of the way it starts but I do have to say I just loved it once it really got into the story. I have never read a book about highlanders that I was just over the moon for and I have to say this one makes me want to go out and find more highlander romance.
I really loved how the two main characters interacted. I loved how Mairin was so fierce and stood up for what she wanted even though it is hard to stand up to a group of warriors who obviously know more about fighting than she does. I loved her character and how she was all in with her heart and knew what she wanted. I feel that the male lead, Ewan, complemented her very well. He was also fierce and didn't know what on earth to do with Mairin and certainly didn't expect to find himself falling for her.
I have to say the first time they are together in the book was heart breaking and I knew Mairin was going to be changed by this moment in the book. I liked that Banks wasn't afraid to show what things are sometimes like in an area where highlanders were at war. I find that I love a little grit in my romance lately so I liked this. I also liked how Ewan was able to bring things around and stand up for the woman he loved. The battles as well as the sexy times just added so much to this story and kept it from just being about romance.
Overall, my thoughts for this one sound a little all over the place but you should know I really loved this. I can't wait to dive into the next book and experience more romance, battles, sexy times and highlanders!