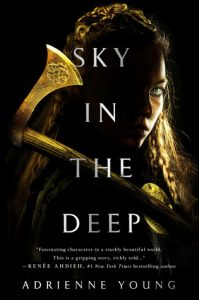 Sky in the Deep by Adrienne Young
Also by this author: The Girl the Sea Gave Back, Sky in the Deep
Published by Wednesday Books
Genres: Fantasy/Historical, Young Adult
Format: eARC
Add to: Goodreads

OND ELDR. BREATHE FIRE.

Raised to be a warrior, seventeen-year-old Eelyn fights alongside her Aska clansmen in an ancient rivalry against the Riki clan. Her life is brutal but simple: fight and survive. Until the day she sees the impossible on the battlefield—her brother, fighting with the enemy—the brother she watched die five years ago.

Faced with her brother's betrayal, she must survive the winter in the mountains with the Riki, in a village where every neighbor is an enemy, every battle scar possibly one she delivered. But when the Riki village is raided by a ruthless clan thought to be a legend, Eelyn is even more desperate to get back to her beloved family.

She is given no choice but to trust Fiske, her brother's friend, who sees her as a threat. They must do the impossible: unite the clans to fight together, or risk being slaughtered one by one. Driven by a love for her clan and her growing love for Fiske, Eelyn must confront her own definition of loyalty and family while daring to put her faith in the people she's spent her life hating.
I jumped at the chance to read this one when the publisher asked me to be part of the blog tour. I love the cover, I never get to read books about Vikings or people similar to them, and I wanted a gory fantasy read.
Instantly this book pulls you into the story. Starting out with a gore filled battle scene was the perfect way to get the blood flowing, if you will. I loved how blood thirty the main character, Eelyn, was on the battle field and how her family trained specifically to fight this war every five years with a rival clan. A blood feud is something I just haven't seen in a book before and I thought it was really interesting to learn about why these two clans felt the need to shed blood every five years exactly. I thought the religion of these two clans was interesting how they believed in different gods and had different yet similar traditions. I think that in the end though we were so focused on the mundane aspects of the one clan's lifestyle that we missed out on some of the fun. The story takes place during several fast battle scenes and then long drawn out homestead scenes where the main character is stirring a pot or cleaning.
The characters in the book really had this nice slow growth that I enjoyed. Eelyn started out as a girl who only believed that the rival clan, Rikki, were evil and out to kill all of her loved ones. She believed that only her own clan, Aska, were living the right kind of life. I enjoyed reading about her struggles to fit in with the idea that no matter what clan a person is born into that everyone is human in the end. I felt this was a strong message for the book and I like that it took her some time to grasp that concept. It can't be easy to go from killing every Rikki to seeing them as human, with real lives and real flaws. I did feel that sometimes along her journey that Eelyn could get a touch annoying because she really honestly thought at times that her life would be better if her brother had died. I feel that those are just things you do not say or wish for when that sibling is alive and in front of you after near death.
Opposite Eelyn I really enjoyed the family environment of her living in a Rikki household. I loved seeing her brother Iri and the struggles he had in seeing his sister again after so long. I liked how strong he was and how he wanted to keep his sister safe. I do feel that since he was such an integral part of Eelyn's growth I do wish he had more interactions with her and that his character would have been fleshed out a little more. I enjoyed the strong silence of Fiske because he was just always where he needed to be and he always just had a certain aura about him that made him mysterious but loving. I liked that he didn't waste time with pretty words and let his actions and his love of his family speak for him.
Overall, I enjoyed this one for how the author didn't shy away from the gory details of war, both with blood shed and with human fear and emotions of battle. I highly enjoyed the overall message of this story and the look into human fear and emotion while going into battle or being afraid of death. I felt the book was slow at times and provided a dull landscape when there could have been a touch more beauty in the descriptions. I also feel that at times Eelyn could really use a good reality check when she wishes for her own brother to be dead on a battlefield instead of alive and by her side. Also I felt the romance could be seen from far off in this book.