I received this book for free from NetGalley in exchange for an honest review. This does not affect my opinion of the book or the content of my review.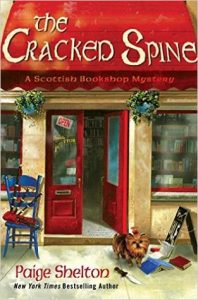 The Cracked Spine by Paige Shelton
Also by this author: A Christmas Tartan, Lost Books & Old Bones
Series: Scottish Bookshop Mystery #1
Also in this series: A Christmas Tartan, Lost Books & Old Bones
Published by Minotaur Books
Genres: Adult, Contemporary, Mystery
Pages: 305
Format: eARC
Read in: September 2017
Source: NetGalley
Add to: Goodreads

Wanted: A bold adventurer who wants to travel the world from a comfortable and safe spot behind a desk that has seen the likes of kings and queens, paupers and princes. A humble book and rare manuscript shop seeks a keenly intelligent investigator to assist us in our search for things thought lost, and in our quest to return lost items to their rightful owners.

Never an adventurer, no one was more surprised than Delaney Nichols when she packed her bags and moved halfway across the world to Edinburgh, Scotland to start a job at The Cracked Spine, a bookshop located in the heart of the city. Her new boss, Edwin MacAlister, has given her the opportunity of a lifetime, albeit a cryptic one, and Delaney can't wait to take her spot behind the desk.

The Cracked Spine is filled with everything a book lover could want, each item as eclectic as the people who work there; the spirited and lovable Rosie, who always has tiny dog Hector in tow; Hamlet, a nineteen-year-old thespian with a colored past and bright future; and Edwin, who is just as enigmatic and mysterious as Delaney expected. An extra bonus is Tom the bartender from across the street, with his cobalt eyes, and a gentle brogue—and it doesn't hurt that he looks awfully good in a kilt.

But before she can settle into her new life, a precious artifact goes missing, and Edwin's sister is brutally murdered. Never did Delaney think that searching for things lost could mean a killer, but if she's to keep her job, and protect her new friends, she'll need to learn the truth behind this Scottish tragedy. - via GoodReads
The Cracked Spine by Paige Shelton is one of my "bad blogger" book reviews. I requested it and then just never got around to it. I wish I could say this was a lost gem but it was really kind of middle of the road for me.
My biggest struggle was the amount of repetition of information. A few things will be ingrained on my braid every time I think of The Cracked Spine: 1) Delaney if the American from Kansas (every time she's introduced to a new person in Edinburgh!! which is everybody she talks to for the first time) and 2) Delaney's brain struggles with the concept of driving on the opposite side of the road. There's a lot of driving.
It also seemed like the characters were all obnoxiously vague. Lots of people enjoy talking. I was expecting a lot more from The Cracked Spine and so much of it missed the mark for me.
Disclaimer: Since I've read and written this review I've read the novella The Christmas Tartan which will have its own review later on. I immensely enjoyed that book so I'm continuing with the series! I truly believe that The Cracked Spine suffered from over-information that can often happen in the first book of a new series.
Narration: The narration was pretty good. The Scottish accents were quite nice to hear rather than read!