I received this book for free from MIRA in exchange for an honest review. This does not affect my opinion of the book or the content of my review.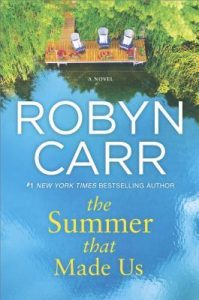 The Summer That Made Us by Robyn Carr
Also by this author: Four Friends, The Promise
Published by MIRA
Genres: Adult, Contemporary, Women's Fiction
Pages: 336
Format: eARC
Source: MIRA
Add to: Goodreads

Mothers and daughters, sisters and cousins, they lived for summers at the lake house until a tragic accident changed everything. The Summer That Made Us is an unforgettable story about a family learning to accept the past, to forgive and to love each other again.

That was then…

For the Hempsteads, summers were idyllic. Two sisters who married two brothers and had three daughters each, the women would escape the city the moment school was out to gather at the family house on Lake Waseka. The lake was a magical place, a haven where they were happy and carefree. All of their problems drifted away as the days passed in sun-dappled contentment. Until the summer that changed everything.

This is now…

After an accidental drowning turned the lake house into a site of tragedy and grief, it was closed up. For good. Torn apart, none of the Hempstead women speak of what happened that summer, and relationships between them are uneasy at best, hurtful at worst. But in the face of new challenges, one woman is determined to draw her family together again, and the only way that can happen is to return to the lake and face the truth.

Robyn Carr has crafted a beautifully woven story about the complexities of family dynamics and the value of strong female relationships. - via GoodReads
Families can be a tangled mess can't they? The Summer That Made Us by Robyn Carr surprised me. It took me until I was about a quarter of the way through the book before I became engaged. This was more on me than the book but one sentence grabbed me and wouldn't let me up. It was around 26% and it was a first sentence. After that I had to know what was going on in this family. I had to know what had happened and what was going on now.
Carr lays out a family history full of private griefs and lots of cold shoulders. It was both awful and wonderful to watch these women wrench open those festering wounds and clean them. Krista may have been my favorite character. She reminded me so much of why we shouldn't take our day to day for granted. I also had part of Charley's back story figured out before the reveal but I don't know that Carr was really trying to hide it.
The Summer That Made Us by Robyn Carr made me want to dig more into Carr's backlist for more women's fiction!