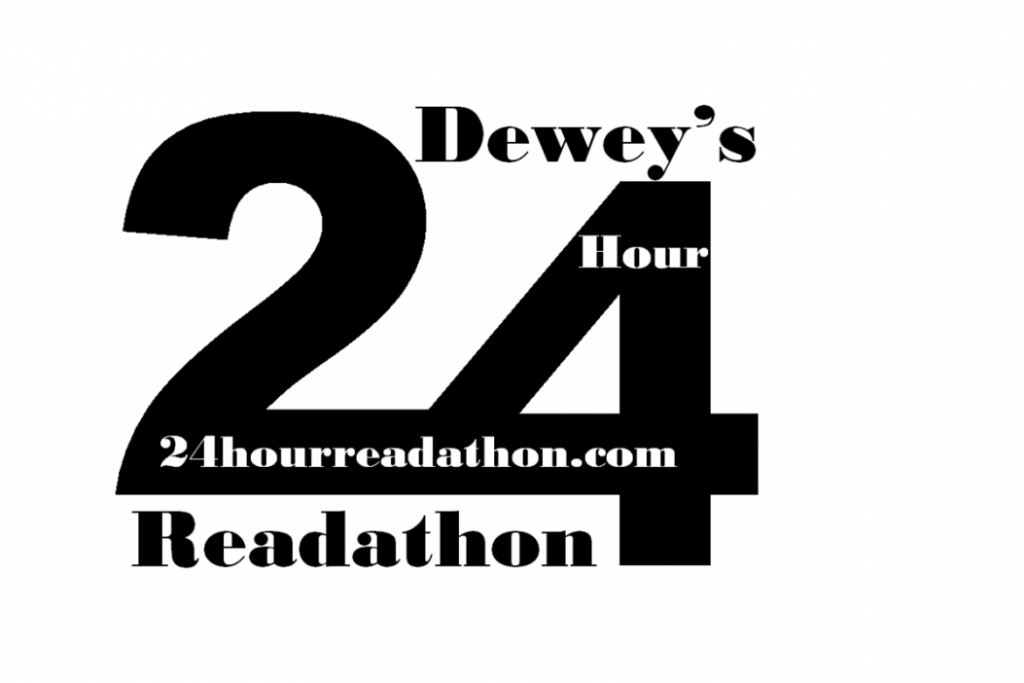 This year marks the 10th Anniversary of Dewey's 24 Hour Readathon and I'm so happy to find the time, ok I took the day off, to join in again.
I'll start by doing the opening survey so you can know a little about me.
1) What fine part of the world are you reading from today?
Arizona
2) Which book in your stack are you most looking forward to?
I really want to get a good of the way through Last Sacrifice because it is the last book in the Vampire Academy series and I have been putting it off for a while.
3) Which snack are you most looking forward to?
I'm not a big snack person but I did buy caramel apple pops yesterday so I might have one of those.
4) Tell us a little something about yourself!
I'm a workaholic but I try to always be off the weekend of Dewey's Readathon.
5) If you participated in the last read-a-thon, what's one thing you'll do different today? If this is your first read-a-thon, what are you most looking forward to?
I'm going to try to stay strong during the afternoon hours. I always slow down during the lunch to dinner time and I don't know why. Plus I have never made it the full 24 hours and I would like to make it till hour 20 or so today.
If you are joining in today I hope you have fun and manage to read a little bit of something special.
TBR:
I have already started both Last Sacrifice and Empire of Storms. I'm only roughly about 35 pages into Last Sacrifice and about 175 into Empire of Storms.
I hope to make dents in both of these longer novels today and I included Zack as a nice easy contemporary to break up the large fantasy/paranormal books I want to read today.
Updates:
I tend to just do bigger updates every few hours instead of stopping my reading progress every hour. So be sure to check back for updates later in the morning.
Hours 1-3 (5am-8am)
Pages read this Update: 42 (Empire of Storms 174-216)
Total Pages: 42
Time Read this Update: 50 minutes
Total Time: 50 minutes
Feelings: Not a lot read so far but I had to take the pup on her morning walk, feed myself, feed her. Plus I spent some time doing the challenge of recommending 10 books from the last 10 years.
Hours 4-6 (8am-11am)
Pages read this Update: 59 (Empire of Storms 217-276)
Total Pages: 101
Time Read this Update: 1 hour 7 minutes
Total Time: 1 hour 57 minutes
Feelings: I'm kinda upset that I haven't managed to read much. I'm hoping during the next update I can read more. I did stop to eat again and shower so I know that took some time.
Hours 7-9 (11am-2pm)
Pages read this Update: 98 (Empire of Storms 276-373)
Total Pages: 199
Time Read this Update: 1 hour 58 minutes
Total Time: 3 hours 55 minutes
Feelings: I spent a good amount of that update reading! I'm enjoying Empire of Storms and I managed to get to Part II. Since I got to a good stopping point in Empire of Storms I might switch to Last Sacrifice during the next round of reading. Who knows.
Hours 10-12 (2pm-5pm)
Pages read this Update: 34 (Last Sacrifice 34-68)
Total Pages: 233
Time Read this Update: 31 minutes
Total Time: 4 hours 26 minutes
Feelings: I wanted to read more but I was distracted by people texting me and making/eating dinner with the hubby. I was really enjoying the change up by reading Last Sacrifice so I think I'll keep reading that for the next update period.
Mid-Event Survey:
1. What are you reading right now?
Last Sacrifice
2. How many books have you read so far?
Zero. I'm working my way through two long books that I don't plan on finishing today.
3. What book are you most looking forward to for the second half of the Read-a-thon?
I'm going to keep going with Last Sacrifice for right now and later I'll probably switch back to Empire of Storms.
4. Have you had many interruptions? How did you deal with those?
I feel like I keep having interruptions but I'm also just pacing myself so I don't get too tired from sitting for too long or too burned out on reading.
5. What surprises you most about the Read-a-thon, so far?
I feel my choices this time around surprise me. I picked two really long books so I won't even be able to finish something today. Which seems a little strange for a day where I read for hours on end.
Challenges:
Recommend 10 Books in 10 Years:
2007: Magic Bites by Ilona Andrews
2008: Breaking Dawn by Stephenie Meyer (Twilight #4)
2009: Blood Promise by Richelle Mead (Vampire Academy #4)
2010: Love in the Afternoon by Lisa Kleypas (Hathaways #5)
2011: This Side of the Grave by Jeaniene Frost (Night Huntress #5)
2012: Me Before You by Jojo Moyes
2013: Allegiant by Veronica Roth (Divergent #3)
2014: Burn for Me by Ilona Andrews
2015: The Wrath and the Dawn by Renee Ahdieh
2016: A Court of Mist and Fury by Sarah J Maas (Court of Thorns and Roses #2)
2017: Wonder Woman: Warbringer by Leigh Bardugo
I seems I have a love of series. The books listed are mostly great series openers such as Magic Bites, The Wrath and the Dawn and Burn for Me or they are just the book I liked the best of the series.