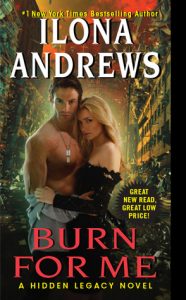 Burn for Me Add to: Goodreads

#1 New York Times bestselling author Ilona Andrews launches a brand new Hidden Legacy series, in which one woman must place her trust in a seductive, dangerous man who sets off an even more dangerous desire…

Nevada Baylor is faced with the most challenging case of her detective career—a suicide mission to bring in a suspect in a volatile case. Nevada isn't sure she has the chops. Her quarry is a Prime, the highest rank of magic user, who can set anyone and anything on fire.

Then she's kidnapped by Connor "Mad" Rogan—a darkly tempting billionaire with equally devastating powers. Torn between wanting to run or surrender to their overwhelming attraction, Nevada must join forces with Rogan to stay alive.

Rogan's after the same target, so he needs Nevada. But she's getting under his skin, making him care about someone other than himself for a change. And, as Rogan has learned, love can be as perilous as death, especially in the magic world.
I love Ilona Andrews' books! So I am kicking myself for waiting so long to start this newer series.
In this book we are introduced to another magical urban fantasy world that just sounds so interesting. The world is modern day but people breed in certain family lines in order to have children who will have certain magical powers. There are Primes who can start their own "houses" and rule with power. We happen to meet a very handsome Prime named Mad Rogan. He is a special Prime who has powers beyond what other Primes in the area have and he is a tactile, which I won't tell you what that is but trust me ladies you need to read about his 'power'.
We also meet a fierce woman named Nevada who is an investigator who also has some power that she has always downplayed so she doesn't get sucked into the magical side of her world. She is the protector of her family and she takes her job very seriously. She always takes small cases so she doesn't get her family noticed or killed but in this book she is forced to take a job that lands her right in Mad Rogan's world.
I have to say I really liked this world because the magic system was unique and what people are willing to do in order to have children of power is insane. I love the Kate Daniels world that these authors created but I have to say I might love this world more! I'm that serious about it. I also really love the characters in this one because the main characters have spark and intense heat that you can't help but love. This book has more romance in it than their others because it was published by Avon. So there is more sexual tension in this one and I will never complain about that.
Overall, I feel that if you love urban fantasy with more romance in it then this is for you. The main characters are well developed and you feel like you are a part of their story. The secondary character provide some humor to break up the tension and I loved all of them as well. The magic system gets high points as well as the sexual tension. Aside from the romance I have to say the action also draws you in. This is like an action movie mixed with magic mixed with romance. Think like early Black Dagger Brotherhood books expect there are no vampires. If that combination is good for you then this is the book for you. I'm off to read the next book!