I received this book for free from Forever in exchange for an honest review. This does not affect my opinion of the book or the content of my review.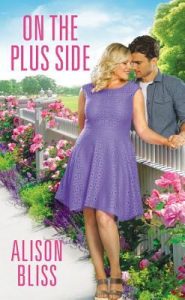 On the Plus Side by Alison Bliss
Series: A Perfect Fit #2
Published by Forever
Genres: Adult, Contemporary, Contemporary Romance, Romance
Pages: 336
Format: ARC
Source: Forever
Add to: Goodreads

Big girls don't cry. They go after what they want.

Thanks to her bangin' curves, Valerie Carmichael has always turned heads-with the exception of seriously sexy Logan Mathis. Just Valerie's luck that the object of her lust-filled affection is also best friends with her overprotective brother. But Valerie's determined to get Logan's attention . . . even if it means telling a teeny little lie to get a job at his new bar.

Logan can't remember a time when Valerie didn't secretly fuel all his hottest fantasies. Now the curvaceous she-devil is working behind his bar, tempting him every damn night. It's only when he finds Valerie's naughty things-to-do list that Logan decides to break every rule in the book-by making each red-hot deed a reality.

No one warned them that they were going to fall this hard. And no one warned them that sometimes the smallest secrets can have the biggest consequences. - via GoodReads
I picked up On the Plus Side by Alison Bliss because I was instantly in love with her plus sized heroines based on appearances alone. It's sort of ironic since the whole idea is to not judge someone based on their outward appearances. Either way for the most part I enjoyed this book but there were a few things that really got to me and so my enjoyment and therefore rating suffered.
I really wanted to like On the Plus Side. Sadly the characters just didn't work for me. Valerie's brother Brett played a large role in this book and he was more than a little overbearing. Towards the end of the book this is addressed but it wasn't enough for me. I wouldn't call Valerie self-centered but she doesn't seem to think things through. She flies by the seat of her pants and this is so opposite of me that I couldn't connect. I enjoyed Logan's character but he too was more hard-headed than I like. At times it was frustrating.
The plot was pretty engaging and I found the story line entertaining. You should probably keep a fan of some sorts near while reading this book. The sexy times are seriously sexy. I already own the first book in the series so I'll probably read that and see where I land before investing anything further.