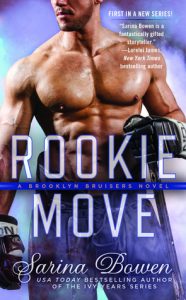 Rookie Move Add to: Goodreads

The first novel in a sexy new series featuring the hockey players of the Brooklyn Bruisers and the women who win their hearts—from the USA Today bestselling author of the Ivy Years series.

In high school they were the perfect couple—until the day Georgia left Leo in the cold...

Hockey player Leo Trevi has spent the last six years trying to do two things: get over the girl who broke his heart, and succeed in the NHL. But on the first day he's called up to the newly franchised Brooklyn Bruisers, Leo gets checked on both sides, first by the team's coach—who has a long simmering grudge, and then by the Bruisers' sexy, icy publicist—his former girlfriend Georgia Worthington.

Saying goodbye to Leo was one of the hardest things Georgia ever had to do—and saying hello again isn't much easier. Georgia is determined to keep their relationship strictly professional, but when a press conference microphone catches Leo declaring his feelings for her, things get really personal, really fast....
Ever since I read a M/M hockey romance co-written by Sarina Bowen earlier this year I just can't seem to get enough. I jumped into this book because I needed more hot men of hockey.
I really enjoyed this book from the start which I was a little surprised by. You see I really don't like second chance romances. I just never seem to feel as connected as I do when the romance is fresh. However, with this one I feel that Bowen really blended the old with the new quite well. I really loved both main characters for how different they were but how they also understood each other and drew from their past to fall in love all over again.
Our leading lady, Georgia, is a fire-cracker. She is smart, polished, and works her ass off to represent a bunch of loud mouth hockey players who think she is a bitch. She isn't afraid to be in a room full of 6 foot muscled men and I have respect for her. I also love how she melts just a little when she realizes the team just hired her old high school boyfriend, Leo. I loved that when Leo entered the page he was a magnet and how he feels for Georgia even after all their time apart is so cute and special. Leo stood up for Georgia from the beginning and I loved watching him win Georgia over. Their romance was cute, loving, and also at times heartbreaking for the things they experienced as teenagers. I also loved how their emotions were portrayed and that both of them suffered emotionally and mentally after what happened to Georgia when they were young. Each has their own scars and I feel that in this book they work through old issues to find love at the end.
Add in some hot secondary characters who just so happen to be guys on the hockey team and you have everything you need for a romance. I caught myself smiling while reading this one and the only tiny complaint that I have is that I would have liked for the ending to be a little less rushed but other than that I'm happy with the way things went. I can't wait to read the next book.